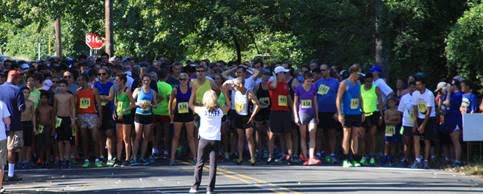 Run, don't walk to Bigelow Tea's 29th Annual Community Challenge! This yearly event takes place on Sunday, September 25th at the Wakeman Boys & Girls Club in Southport, Connecticut and offers more family-friendly fun than ever! Lace up your sneakers and join in the 5K Road Race or 2-Mile Fitness Walk; participants receive tee shirts and goodie bags, plus are eligible for the chance to win great raffle prizes. There's also free babysitting for all runners and walkers, so you have no excuses! The kiddos will especially enjoy this year's brand new KidZone, which is open to Pre-K through 6thgraders, includes a 100-yard scamper, 1-mile run, and hoola hoop, zig-zag and jumping challenges. After all that activity, sit back and listen to live music outdoors while nibbling on tasty bites and enjoying free tea samples at the Bigelow Tea Mobile Tea Bar. While you're there, don't forget to take a picture with Biggie the Tea Bar Mascot!
The whole event is a fun way to give back to the community while having a great time engaging in some friendly competition with family and friends. Since the event's inception, Bigelow Tea has raised over $1.2 million dollars for local charities that provide everything from educational services and counseling to shelter and food. The event raised $145,000 in 2015, so let's do our best to beat that number this year!
Register in advance before September 16th for a lower price.  We look forward to seeing you there!