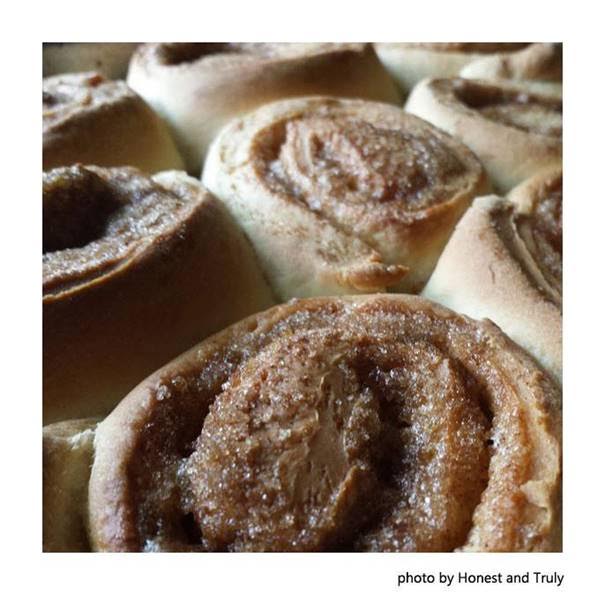 Whether you're an early riser who can't miss the first sunrise of the year or you're sleeping off too much holiday cheer, what could be better than starting off 2018 with some delicious and comforting food? These four delightful recipes infused with Bigelow Tea are perfect for a yummy New Year's Day breakfast, brunch or just hanging around the house in your pajamas. (and watching movies, yay!) Give these scrumptious treats a try and tag #TeaProudly to share your favorites!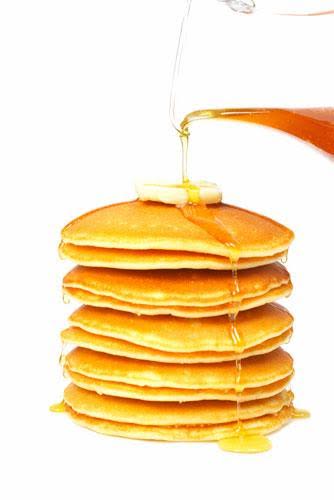 Start your day with these delicious pancakes made with Bigelow's Eggnogg'n tea.
Prep Time: 5 Minutes
Makes 10-12 Pancakes
Ingredients
1 ¼ cup (310mL) milk
1 cup (250mL) flour, sifted
¼ teaspoon (1mL) salt
1 tablespoon (15mL) sugar
1 tablespoon (15mL) baking powder
1 egg
2 tablespoons (30mL) sour cream
2 tablespoons (30mL) butter, melted
Instructions
Heat milk in microwave for 2 minutes; add tea bags and let sit for 5 minutes. Squeeze tea bags well and discard. Let cool. Sift flour and dry ingredients into a mixing bowl. Beat together egg, infused milk and sour cream. Stir into dry ingredients. Add melted butter and whisk well. If too thick, add more milk. Drop a small spoonful on a hot griddle, 1 tablespoon (15mL) at a time. This recipe can be doubled or tripled. It stores well overnight.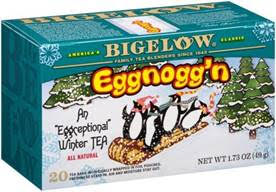 This do-ahead dish makes a perfect breakfast for overnight guests. It can be completely assembled the night before, and will bake while you're brewing the morning tea. Serve with a fresh fruit salad for a delicious start to your day.
Serves 6-8
Ingredients 
12 slices of Challah bread, cut in half on the diagonal
½ cup of hot water
6 eggs
1 cup skim milk
1 teaspoon salt
1 – 8 oz package cream cheese, cut into small cubes
Non-stick cooking spray (preferably plain or butter flavor)
Instructions
Lightly coat the bottom and sides of a 9 x 13 inch baking dish with non-stick cooking spray. Steep 5 tea bags in ½ cup of water for 5 minutes, and allow to cool slightly. In a medium bowl, whisk together the milk, eggs and salt. Add cooled tea and whisk to combine. Arrange a layer of Challah bread in the prepared baking dish, and evenly distribute half of the cream cheese cubes on top. Add a second layer of Challah bread, and slowly pour egg mixture over the top, allowing it to completely soak all the bread. Top with remaining cream cheese cubes, cover with aluminum foil and refrigerate overnight (or at least 2 hours). The next morning, remove from refrigerator and preheat oven to 350 degrees. Bake for 45-50 minutes, until the dish is completely set and lightly browned. Cut into squares and serve with maple syrup if desired.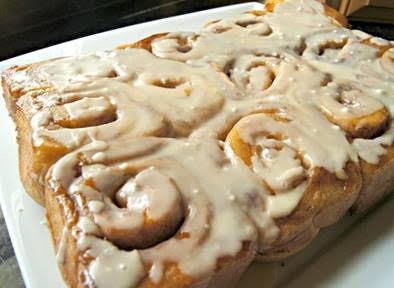 An incredibly yummy cinnamon roll perfect for breakfast or brunch. Make most of it the night before so they're ready quickly in the morning.

Submitted by Michelle
Prep time: 30 minutes
Makes 12 rolls
Ingredients
Cinnamon Rolls
1 c milk
2 1/4 t yeast (1 packet equivalent)
1 t salt
1/4 c sugar
5 T butter, softened
1 egg
3 1/2 c flour
Filling
1/2 c butter, softened
1/3 c sugar
1/2 c brown sugar
1 t cinnamon
1/2 t fresh ground nutmeg
1/4 t fresh ground cloves
Glaze
Instructions
Start making your dough by heating your milk just until it is steaming. Add the tea bag and let it steep for five minutes while the milk cools somewhat. Remove the tea bag, and add your milk to your mixing bowl. Top with your yeast, sugar, salt, and 1 cup of flour. Mix until thoroughly combined.
Add your softened butter and mix again. When mostly incorporated, add the egg and bring to medium speed to beat together. Once incorporated, add your remaining flour slowly to ensure your dough isn't too dry. Mix on low speed until your dough comes together in a ball.
Remove the dough to a lightly floured surface and knead for five to ten minutes, until the dough springs back when you press lightly into it. Return to your bowl and cover with a towel. Let rise for an hour until doubled in size.
Remove the dough from your bowl once risen and roll out to a 9 by 15 rectangle. Using the wrapper as a holder for your 1/2 cup of butter, spread it over the dough, leaving a one inch gap along the top long side so the dough will still stick later. Use the wrapper to spread any remaining butter into the bottom and sides of a 9×13 pan so that your cinnamon rolls won't stick to it later.
Mix together the remainder of your filling in a separate bowl. Use a fork to combine the sugars, cinnamon, nutmeg, and cloves. Spread this over the butter on your rectangle using your fork.
Roll up your rectangle into a long log, starting at the bottom and leaving the uncoated edge for the end. Use a serrated knife to slice into 12 equal pieces.
Carefully lift each piece and place it into your buttered pan. Some will touch and others won't. Replace the towel and let rise for 30 minutes or place in the fridge overnight to finish in the morning. If finishing in the morning, remove the rolls from the fridge and let sit on the counter, still covered by the towel, for 45 minutes.
Preheat your oven to 350 degrees while your cinnamon rolls are rising. Once they are ready to bake, remove the towel and bake uncovered in your oven for 30 minutes until golden brown and the filling has started to bubble at the edges.
Cool in the pan while you make the glaze. Brew a cup of Bigelow vanilla chai tea. In a small mixing bowl, add melted butter, vanilla, and powdered sugar. Pour the hot tea over this. Using a fork, stir until thoroughly combined, adding a bit more tea to thin the glaze if needed. Pour the glaze over your cinnamon rolls and enjoy immediately.
Note–These are best eaten the day they're made but can be stored on the counter in a tightly sealed container for another 1-2 days, if needed.
For step-by-step instructions visit Michelle's site Honest and Truly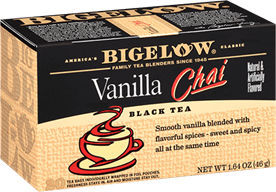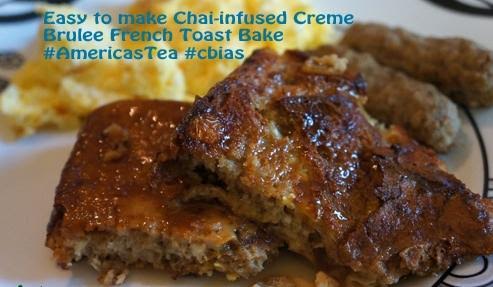 Reinventing a favorite recipe using Bigelow Tea Vanilla Chai Tea in the Chai-infused Creme Brulee French Toast Bake. It sticks with my need to offer nutritious foods but is decadent tasting as well! 
Submitted by Schema
Prep time: 30 minutes
Ingredients
2 Bigelow Vanilla Chai Tea Bags
1/2 cup water
5 slices of bread, torn
3 eggs
1/2 cup evaporated skim milk (or milk of choice)
1/4 cup +1 TBSP Agave (or honey)
1/4 cup coconut oil
1/4 tsp nutmeg (optional but I love the extra flavor nutmeg adds)
Instructions
Preheat oven to 425.  Brew 2 Bigelow Vanilla Chai Tea bags in 1/2 cup of water. Set aside.
Melt Coconut oil completely and add agave to it. Whisk to combine.   Combine Tea, milk, eggs, and nutmeg. Set aside.
Pour half of coconut oil mixture in bottom of square pan.  Place torn bread on bottom on the coconut oil mixture. Pan egg mixture over bread.  Top with last half of coconut mixture.
Bake for about 30 minutes or until completely cooked.