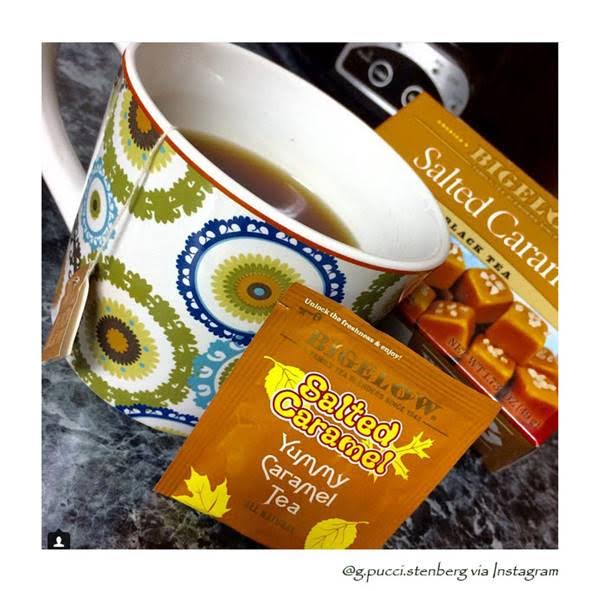 Hey, tea lovers, let's talk caramel. This decadent flavor is exactly what you need in your life—especially today, given it is National Caramel Day. Thank goodness, Bigelow Tea has got you covered. Each of our caramel teas have *real* pieces of caramel in the tea bag. Yes, you heard that correctly… little nuggets of bliss that make each flavor—Vanilla Caramel, Caramel Chai and Salted Caramel—a heckuva lot yummier. All are a little bit sweet, a little bit salty, a lot creamy and butter-y rich and totally ahhh-mazing.
Besides delicious, what exactly is caramel? And why on earth do we all love it so much!? From sauces to wrapped treats, caramel is a versatile piece of sweetness. While its exact history is unknown, it is documented that around 1650, American settlers were making hard candies in kettles. Between this time and the early 1880s, candy makers began to add fat and milk while boiling sugar and water, creating what is now known as ooey-gooey caramel. Caramel candy's popularity increased greatly when Milton S. Hershey opened Lancaster Caramel Company in 1886. Soon after, caramel candies were being shipped across the United States and to Europe.
Jump ahead to today and check out how Bigelow Tea rocks caramel: Salted Caramel is an all-natural blend of hand-picked black tea and caramel with just a hint of salt; Caramel Chai Black Tea is made with spices, natural caramel chai flavor and molasses crystals; and Vanilla Caramel is smooth and sweet, thanks to the rich caramel and creamy vanilla ingredients. Pick a flavor, add a splash of cream and a hint of sweetener and you'll have the perfect bit of awesomeness in your mug of tea!
Have you tried one of the Bigelow caramel teas yet? Tag #TeaProudly with a picture of your fave!