On April 26, Bigelow Tea joined in the Kentucky Derby celebration by taking part in the local 2010 Kentucky Derby Festival, held in Louisville, KY. The Derby Festival takes place for two weeks up to the running of the famed Kentucky Derby.  With all proceeds benefiting the community, the fun and merriment features a variety of great events –like the zany Great Bed Races! The Great Bed Race is easily our favorite, and we have entered it for 6 years now!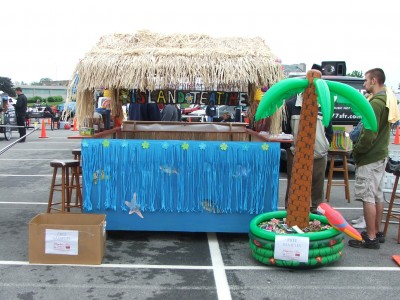 Why are the Great Bed Races so exciting? Well, it's quite the sight: Bigelow Tea, along with 52 other companies constructed beds with four runners and one driver, designed to race around a 600 ft. track. Talk about your spectacle! Not only that, but racers also dress in wild and crazy pajamas, head to bed.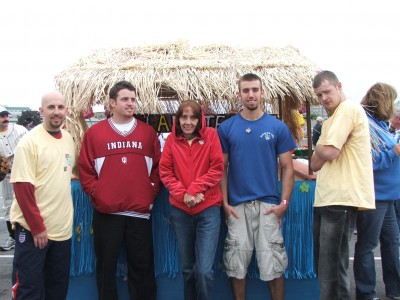 This year's theme for the Great Bed Races was "Spring Fever Reliever," and fittingly, we named our Bigelow Tea bed "Island Teatime." The tropical bed was designed as a tiki hut, and of course, we could not pass up such an excellent opportunity to serve several flavors of our delicious freshly brewed teas.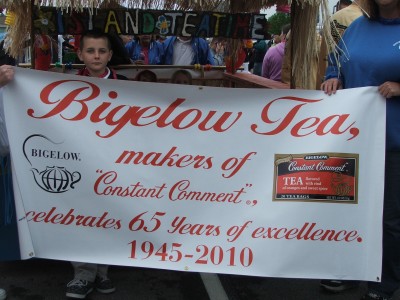 So what were the Great Bed Race results? Well, out of 40 teams that managed to keep their beds intact throughout the race, Bigelow Tea placed 15th in the Fun Division, with a tea-fueled time of 30.9 seconds! Not bad considering the pressure of thousands of Great Bed Races enthusiasts watching and televised coverage by the local NBC affiliate WAVE 3.
We are excitingly awaiting next year's Great Bed Races.  We can't guarantee a Win, Place or Show, but we can guarantee a fun time for all!