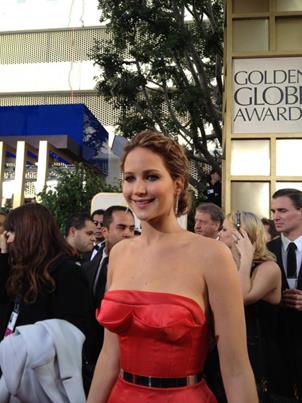 Bigelow Tea appreciates the determination that tea lovers have for enjoying their tea. Since 1945, tea and community have been the passion of this family run business, and today more than 120 flavors of specialty teas provide a wealth of options that tea lovers just can't pass up! Kind of like the many acting options available for sought-after actress, Jennifer Lawrence, star of 2014's The Hunger Games: Mockingjay Part 1—and she is a tea fan too!
Bigelow Tea noted last year that J-Law drank tea during the film Silver Linings Playbook. The following year at the Academy Awards, Jennifer was asked what refreshment she wanted in her dressing room, and she politely requested some English breakfast tea!
Bigelow Tea is a perfect choice for any time, and it would certainly help an actress freshen up when winning an Oscar!  Bigelow Tea lovers also appreciate English Breakfast Tea, like Bigelow Tea fan Joanie Torre who tweeted, it's "My absolute favorite!" You can't go wrong with the American made tradition and love that the Bigelow Tea family puts into every cup!
Image by jdeering via Flickr.com