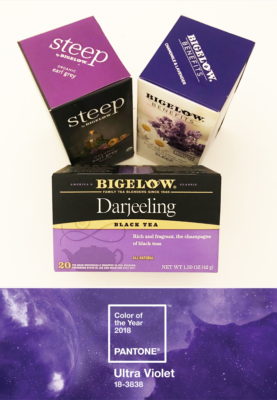 Oh, hey, purple. You're not only gorgeous, you're the color of inspiration for several Bigelow Tea flavors. And, get ready… you're also the color of 2018! Heck yes.
Many of you creative types out there know that Pantone, a longstanding provider of color matching technology, chooses a color each year that serves as an expression of the mood and attitude of today's culture. This color selection is anxiously awaited by artists, graphic designers, printmakers and others. And the #TeaProudly movement wants to know, too. Because it's all about being stylish yet timeless with your cup of tea.
So, drumroll please………the Pantone 2018 Color of the Year is 18-3838 Ultra Violet! An intense purple shade, Ultra Violet articulates innovation, imagination, and visionary thinking, and this nuanced shade of purple is full of emotion. Its distinctive brilliance symbolizes experimentation, pushing boundaries and leaving a unique impact on the world through creative expression. (Time to get out that paintbrush or pen and paper — go ahead, express yourself!)
Though you may not think about it very often, color is an important element of your environment and affects everyday life. According to Psychology Today, different colors have different effects on your mood and emotions—some are energizing, others are calming and some can even make a room feel warmer or cooler.  Plus, some of our favorite blends come in violet packaging, in particular our Bigelow Darjeeling Tea. This elegant tea is grown high in the remote Himalayan foothills, a part of the world where the wide-open night sky meets the mountains. (Wow!) And Darjeeling's not alone. Fragrant, flavorful Bigelow Benefits Chamomile and Lavender herbal tea can help you relax and clear your mind before or after meditation, yoga or some creative endeavor.
So grab a mug, your favorite Bigelow Tea, and take a moment to reflect on how Ultra Violet and other shades of purple fit into your life. Feel free to share your journey of personal discovery and #TeaProudly!