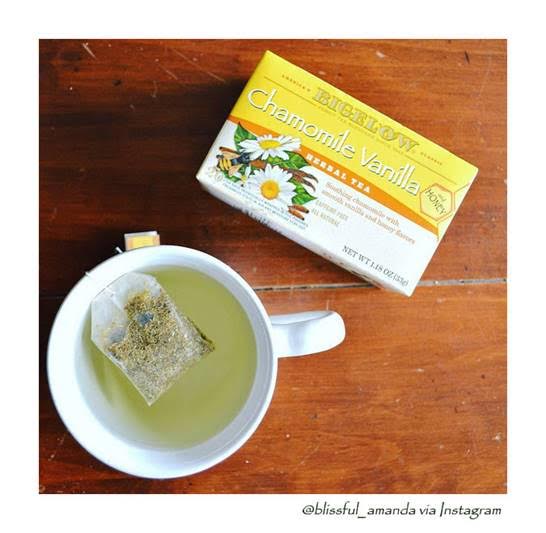 Trying to catch a break? Need some tea? Thinking of going for something different? When in doubt, go for Chamomile. Why? Easy. It's a go-to for stressful days and is the perfect excuse to grab a mug and chill. Besides, Bigelow Tea has several Chamomile flavors to choose from, which is awesome if you're looking to mix up your tea drinking habits.
And check this out, the chamomile flower has a mellow and slightly floral character, perfect for relaxation. In Bigelow Tea's chamomile varieties, the whole chamomile flower is used—carefully picked for a sweeter, rounder, more flavorful experience. And, because it's light and refreshing, it blends beautifully with other ingredients like mint and mango. Sooo, what do you know about mint and mango (other than the fact that they're delicious in tea)?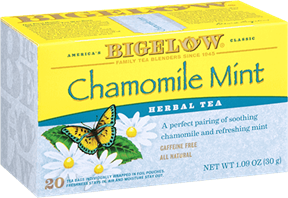 Well, let's start with mmm-mint. As a third-generation family business, Bigelow Tea sources ingredients only from suppliers who share the Bigelow family's passion for quality. Many of these trusted partners have worked with Bigelow Tea since the company's early beginnings and are now, well, like family! A great example is our supplier of 100 percent American-grown mint that is masterfully blended into several Bigelow mint teas. When you marry mint with chamomile, like in our Chamomile Mint Herbal Tea it makes a refreshing relaxing blend to enjoy.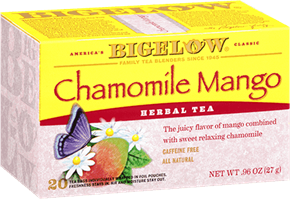 Okay, next up. Let's unpeel the history of the mango. Who wouldn't want a tropical escape right in their mug? Mangos are the succulent, aromatic fruits of an evergreen tree, and are thought to have originated more than 5,000 years ago in Southeast Asia and India. Buddhist monks cultivated the fruit and the mango is considered
to be a sacred fruit in the region because legend says that Buddha himself meditated under a mango tree. ("Om" sounds a lot like "yum" to us!) Interestingly, the mango belongs to the same family as the cashew and pistachio nut, but it makes for a much sweeter and tangier treat than its cousins.
With these great flavors to choose from, cozy up to a cup or two (oh, heck, make it three) with Bigelow Tea Chamomile. Enjoy some sweet relaxation with fabulous flavors mixed in. Take some time to #TeaProudly, confidently and even nonchalantly, because with chamomile in your cup, it's time to take a break!