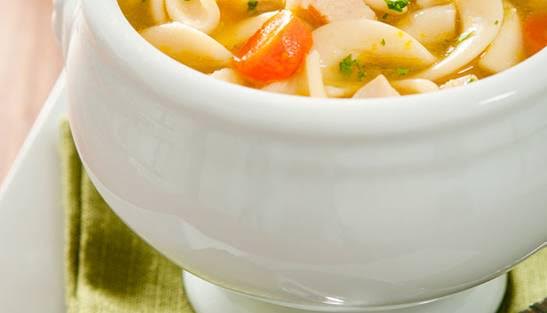 On a cold winter evening, nothing beats a bowl full of warm comfort food for dinner—particularly if it's made with the flavors of Bigelow Tea. This season, try your hand at one of these recipes featuring chicken: Chicken Noodle Soup with Ginger (perfect for when you have a sore throat) and I Love Lemon Chicken Chili (which pairs well with a Sunday football game). Find comfort in your favorite comfort foods—with a slight twist, thanks to tea of course!
Chicken Noodle Soup with Ginger
(Pictured at top)
Ingredients
2 cups hot water
1 cooked, skinless, boneless chicken breast (approx. ½ pound)
4 cups low-sodium chicken broth
2 cloves garlic, finely minced
2 medium carrots, thinly sliced (½ cup)
½ cup dried fine egg noodles
1 teaspoon salt
Freshly ground pepper
⅓ cup fresh parsley, chopped
*Alternative Bigelow Herb flavor to try – Bigelow® Ginger Snappish Tea
Instructions
Combine 2 cups of hot water and 3 Bigelow® Ginger Snappish tea bags and allow to steep for approximately 5 minutes. Meanwhile, using 2 forks, shred the cooked chicken breast. Use one fork to anchor the chicken breast to the cutting board, while using the other fork to 'scrape' the chicken into shreds. This is easily achieved if you shred along the grain of the chicken breast. Alternately, you may simply cut the breast into bite-sized pieces. In a medium saucepan or soup pot, combine the chicken broth and the tea over high heat. Add the garlic, carrots, shredded chicken and noodles. Bring to a boil, then reduce to a simmer. Simmer for approximately 7 to 10 minutes, or until carrots are tender and noodles are cooked. Add salt and pepper to taste. Add chopped parsley and adjust seasonings as necessary. Ladle into bowls and serve hot. Note: To make this soup ahead of time, proceed as directed but omit the noodles and the fresh parsley. Store in refrigerator for up to 2 days, or freezer for up to 2 months. When ready to serve, pour into a medium saucepan, add noodles, bring to a boil, then reduce heat and simmer until noodles are cooked and soup is heated through. Adjust seasonings, add fresh parsley and serve.
Ingredients
8 tea bags of I Love Lemon Herbal Tea
1 teaspoon kosher salt
1/2 teaspoon black pepper, whole, cracked
1 cup all-purpose flour
4 pounds chicken breast, 1″ cubed
4 ounces Extra Virgin olive oil
1 tablespoon garlic, minced
8 ounces onion, diced
4 ounces celery, diced
7 ounces Poblano Pepper, diced
5 ounces red bell pepper, diced
2 cups corn, fresh or frozen
1/4 teaspoon cumin
1/2 teaspoon cayenne
1 teaspoon chili powder
1 quart chicken stock
16 ounces beans, fresh cooked or canned
1/4 cup cilantro, chopped
Instructions
Heat saute pan and add oil.
Toss chicken in flour until coated and shake off excess. Sear chicken on all sides and remove from pan reserving oil in pan.
Sweat garlic, onion and celery. Add peppers and sweat. Add corn and spices.
Cover with chicken stock and add tea bags. Bring to a simmer and add beans.
Let simmer for one hour and adjust seasoning as necessary.
Remove tea bags, stir in fresh cilantro and serve.