Bigelow Tea is beyond proud of third-generation president and CEO Cindi Bigelow, who was interviewed as part of a three-part series on Travels & Traditions, called "It's a Good Thing: Women Entrepreneurs in America," hosted by Burt Wolf and Linda McMahon. The program will begin airing across 290 PBS affiliate stations this month and more than 100 million viewers are expected to watch it.
In her interview segment, Cindi speaks about Bigelow Tea—its history and her experience at the helm of the company. Founded in 1945 by Ruth Campbell Bigelow, Bigelow Tea is dedicated to being a premier packer of truly fine quality teas. In fact, Bigelow Tea is recognized as America's #1 Specialty Tea company. Here are a few of the tea-related tidbits Cindi shared:
Initially, Ruth had owned an interior design company called Ruth Campbell Design, and was very successful. But when the Great Depression hit, both Ruth and her husband lost their jobs. It was then when she decided to make tea.
In 1945, inspired by an Early Colonial recipe, Ruth disappeared into her New York brownstone kitchen to create a better cup of tea. After weeks of trial and error, blending black tea with orange rind and sweet spices, she emerged with the first cup of specialty tea, which would become known as "Constant Comment®".
During the early years, it was challenging to sell "Constant Comment" until, one day, a shopkeeper who had success selling the tea shared with her that he had been opening up a container to allow his consumers to enjoy the tea's amazing aroma. "One whiff and they were sold!" she said. Ruth immediately started including an "extra" little jar of "Constant Comment" in each case, labeled "Open and Whiff." Shops across the country placed this whiffing jar by their cash registers. Soon after, the tea was sold in Bergdorf's, Bloomingdale's and grocery stores.
To ensure Bigelow's fresh, pristine flavor each and every time you brew, our tea bags are individually wrapped in foil pouches to shield delicate tea leaves from air, moisture and surrounding aromas, locking in flavor and freshness. This approach began after David Bigelow began working with a Japanese company who created overlap packaging. Today, 1.7 billion bags of Bigelow Tea are packaged in foil overwrap.
To this day, "Constant Comment" is a secret recipe that only Cindi's parents, Bigelow Tea Co-Chairmen Eunice and David Bigelow, know and blend.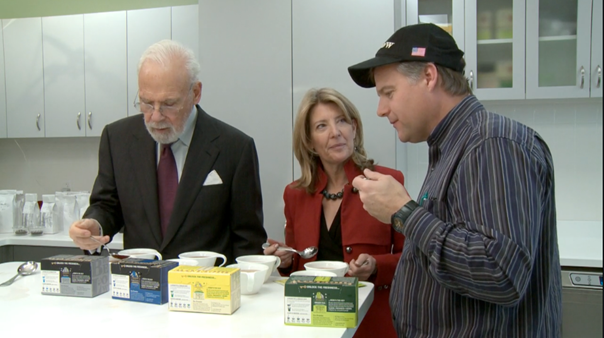 On a daily basis, Cindi attempts to bring the spirit of her grandmother, Ruth, into every decision she makes for the company. In a country where only 5 percent of companies have female CEOs, Bigelow Tea has thrived—against all odds—to be not only the #1 specialty tea company in the USA, but a source of "constant comment" in the conversation about women entrepreneurs.