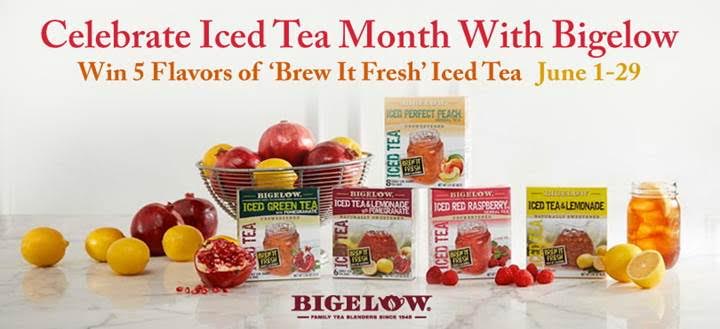 Iced Tea Month is coming to an end, and is so is Bigelow Tea's June sweepstakes! Enter TODAY by midnight EST on Facebook (or use this link if you're on a mobile device: http://woobox.com/bqu3cg ) for your chance to be one of the 22 lucky winners of 36 iced teas in these summer-ready flavors:
Iced Tea and Lemonade (6 tea bags) – For pure refreshment, indulge in the taste of rich black tea and sweet lemonade.
Iced Tea and Lemonade with Pomegranate (6 tea bags) – Pomegranate adds extra flavor to this lightly sweetened treat.
Perfect Peach Herbal Iced Tea (8 tea bags) – Captures the taste of ripe, juicy peaches. Unsweetened.
Red Raspberry Herbal Iced Tea (8 tea bags) – A blend created especially for fresh-brewed iced tea. Unsweetened.
Iced Green Tea with Pomegranate (8 tea bags) – Deliciously different and rich in antioxidants. Unsweetened.
Check the Bigelow Tea blog to see if you're among the winners, and be sure to enjoy fresh-brewed iced tea in your favorite Bigelow Tea flavors all summer and beyond for pure refreshment!