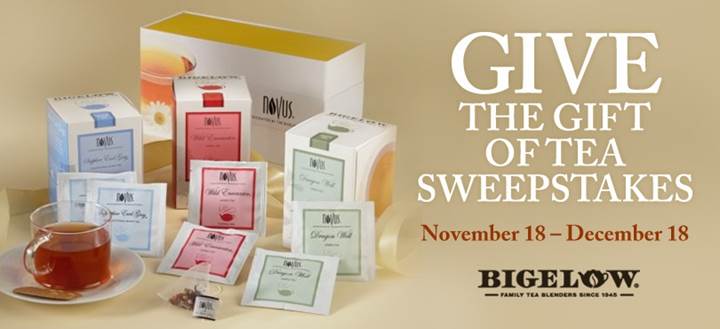 Hey Bigelow Tea fans, ready for some holiday sweepstakes cheer? Twelve lucky winners will take home this Novus Gift Box featuring three popular Novus tea flavors.  Each lovely box with magnetic closure contains 36 pyramid-shaped sachets enveloping full-leaf teas from the finest tea estates. That's right, enjoy the exquisite flavor of loose tea with the convenience of a tea bag! The uniquely designed tea sachet allows the delicate tea leaves to unfurl completely for full flavor extraction.
To give or keep this special tea gift for yourself? Ah, the choice is yours! Here's the lowdown on the teas included:
Novus Dragon Well Green Tea – box of 12 sachets – The tender green tea leaves from the Dragon Well Province are renowned for their mellow flavor and fragrant aroma.
Novus Sapphire Earl Grey Tea  – box of 12 sachets – Natural bergamot and blue malva flowers add an innovative twist to traditional Earl Grey black tea.
Novus Wild Encounter Herbal Tea – box of 12 sachets – This caffeine-free herbal blend tantalizes your taste buds with the sweet-tart taste of fruit and berries.
To enter, simply "like" the Bigelow Tea Facebook page, click on the sweepstakes icon under the large cover photo or on the side of the page, and follow the entry instructions. Be sure to share the sweepstakes on Facebook and Twitter to get more entries. You can enter once per day until the sweeps ends on December 18th. If you're using a mobile device, use this link to enter instead: http://woobox.com/joz695
Check the Bigelow Tea blog to see if you're a winner.  Good luck, and happy holidays!