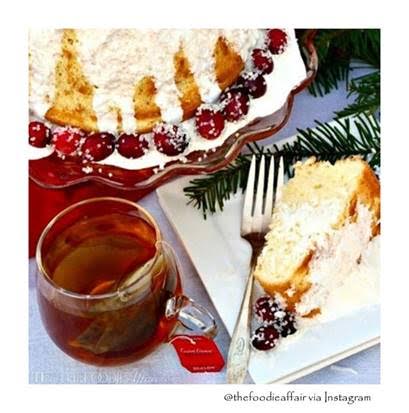 Your calendar is filling with fun times meeting and greeting your peeps…the holiday season is here!
To prepare for both your planned gatherings and those inevitable drop-in guests, why not keep some special cakes, cookies and of course Bigelow Tea on hand??  Seasonal Bigelow tea flavors like EggNogg'n, Peppermint Bark, Hot Cinnamon and Ginger Snappish are fun to serve at any get together.  As for the welcome sweet treats, Bigelow's #TeaProudly community and resident chefs have developed some awesome recipes, each made more special with the festive flavors of Bigelow tea cooked right into the recipe.
Tea, cake, cookies, dessert, oh my!… what a sweet, memory making way to celebrate the holidays. Enjoy and bon appetite TeaProudly-ites!
Check out this tasty, yet easy recipe to make which is perfect to have on hand for guests.  And course this recipe includes the sweet, spicy taste and aroma of "Constant Comment" which has made this Bigelow tea so famous.  Fun Fact: did you know the first spice cakes are said to have originated in New Hampshire and are known to have a long shelf life due to the denseness of the cake? That works…especially during the holiday season, right?!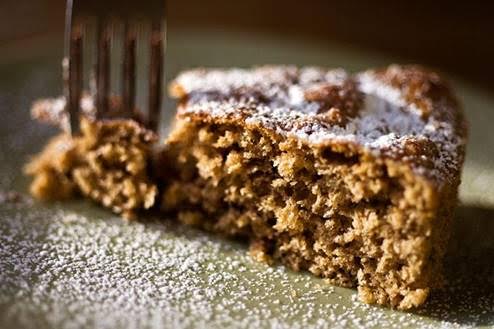 Ingredients
½ cup milk
½ cup unsalted butter (1 stick)
1 cup sugar
3 eggs, room temperature
1-⅔ cups flour
2-½ teaspoons baking powder
Confectioners sugar
Instructions
Preheat oven to 350° F. Grease and flour a 9″ round cake pan. Combine milk and tea bags in a small saucepan. Heat over medium/low heat until bubbles form around the edge, stirring occasionally. (DO NOT BOIL.) Remove from heat and let cool (15-20 minutes); remove tea bags squeezing out liquid. Set aside. In large mixing bowl, cream butter and sugar until smooth. Add the eggs and whisk to blend. Add the cooled milk; continue to whisk until thoroughly combined. Add flour and baking powder; mix until a smooth batter forms. Pour batter into pan. Bake approximately 35 minutes, or until center of cake springs back when touched. Cool on wire rack before removing from pan. Let cool completely before serving. Dust top with confectioners' sugar.
If cookies are more your jam, make it a Madeleine, specifically an Orange Spice Tea infused one. Dating back to the days of Louis XV in 1700's France, these famous delicate treats were and are an ideal pairing to tea, and the orange spice flavor gives them a modern twist.  The Seaside Baker developed this recipe which King Louie would for sure give the thumbs up to.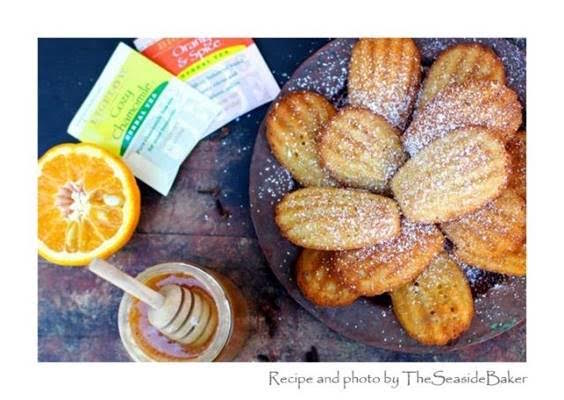 Ingredients
1/2 cup unsalted butter
2 Bigelow Orange Spice tea bags
2 tablespoons boiling water
4 eggs
2/3 cup granulated sugar
1 tablespoon orange zest
1 cup all purpose flour
1/4 teaspoon salt
1/4 teaspoon baking powder
2 tablespoons powdered sugar
1/4 teaspoon cinnamon
Instructions
Preheat oven to 350 degrees.
Butter and flour madeline pan or spray with nonstick cooking spray.
In a microwave safe bowl, melt butter.  Place tea bags in 2 tablespoons boiling water and steep for 5 minutes then pour into melted butter.
Meanwhile, beat eggs and sugar for 5 minutes on medium high speed.
Once batter is pale and have doubled in volume, gently fold in orange zest.
In a separate bowl, sift together flour, salt, and baking powder. Add sifted flour in three parts, gently folding flour into egg batter after each addition. Slowly pour butter into batter while folding it in.
Spoon about 1 and 1/2 tablespoons of batter into each shell.
Bake Madelines for 8 to 10 minutes.
Cool completely then sprinkle with powdered sugar and cinnamon.
For the kids at the table, or for a memory making holiday activity, ice sugar cookies with frosting made even more delicious with Bigelow Eggnogg'n tea.  Hey did you know that the practice of icing cookies with a hardening frosting like our Eggnogg'n variety came to be in the early 18th century, replacing meringue icing which had to be dried out by an oven… who has the patience for that!  Bigelow's frosting recipe pairs perfectly with any holiday cookie, is quick and easy to make and, best of all, tastes as good as it looks!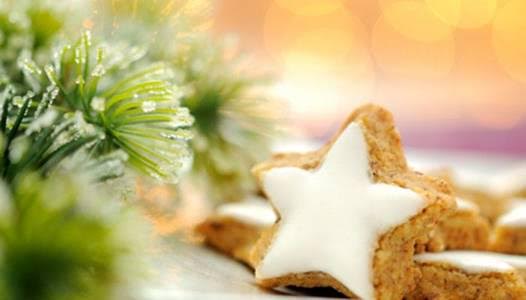 Ingredients
1 cup water
2 cups 10x confectioners sugar (powder sugar)
Instructions
Boil water. Place 4 tea bags in water and steep for 3-4 minutes. Remove tea bags and let liquid cool for ½ hour. Place sugar in mixing bowl. Add 2 tbsp. tea liquid and stir until completely mixed. Should be the consistency of honey. If not, gradually add more liquid in small amounts to reach desired consistency. Can be used as an icing for holiday cookies, scones, muffins, or ice cream
When the occasion calls for a bit of sophistication, a show stopper but simultaneously super easy to make recipe is this Fig Brulee.  A take on Crème Brule, Fig Brulee rivals the famous creamy dessert which France claims originated in the 1600's in the Palace of Versailles.  Bigelow has bested the concept by making a fruity, no-bake variation and adding a cool touch of flavor with vanilla eggnog ice cream made with Bigelow Eggnogg'n tea.  This will be sure to wow those not-easily-impressed guests!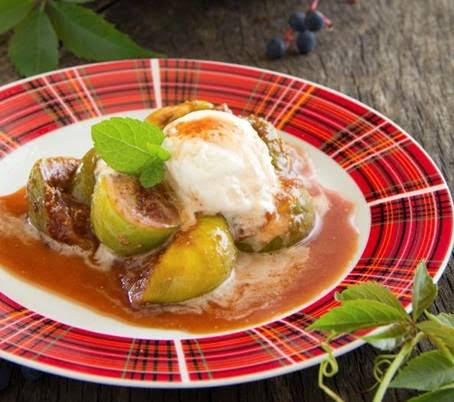 Ingredients
1 pint half-and-half
1 cup sugar
2 vanilla beans, split lengthwise and scraped, seeds reserved, divided
12 egg yolks
18 figs
6 tablespoons butter, melted
½ cup sugar
Instructions
In a medium saucepan over medium-high heat, combine the half-and-half, sugar, tea bags, and reserved seeds from 1 vanilla bean. Cook until the mixture just begins to boil; remove from heat, and set aside. In a medium bowl, whisk the egg yolks until smooth. Using a ladle, pour 1 cup of the hot half-and-half mixture in a slow, steady stream into the beaten egg yolks, whisking constantly. Remove the tea bags from the half-and-half, and then add the egg-yolk mixture to the remaining half-and-half in the saucepan. Cook over medium-high heat, stirring constantly, until thick enough to coat the back of a wooden spoon, or until the custard reaches 180º on an instant-read thermometer. Strain the custard through a fine-mesh sieve into a stainless-steel bowl set in an ice bath. Stir until the custard is very cold. Freeze the custard in an ice-cream maker according to the manufacturer's instructions. Preheat oven to 350º. Cut each fig in half, and place each half, cut side up, in a well of a muffin pan. In a small bowl, mix together the butter and reserved seeds from remaining vanilla bean. Brush the top of each fig with the butter mixture, and bake for 6 minutes. Remove figs from oven, and evenly sprinkle the cut sides of the figs with the sugar. With a culinary torch, hold the flame about 2 inches above the surface of the figs. Direct the flame in an even back-and-forth motion so that the sugar melts and browns. Serve two prepared fig halves with a scoop of ice cream.