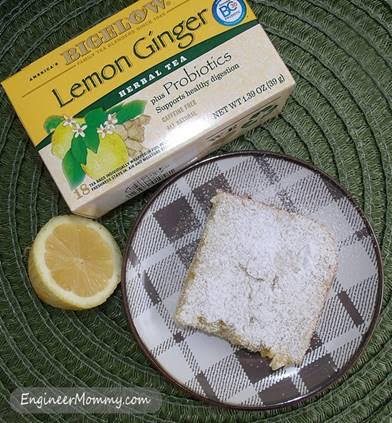 Our Lemon Ginger Herbal Tea plus Probiotics is a favorite at Bigelow Tea. Tart and full of that gingery "zing," it stands out not only for its taste but also because it's good for your digestion due to the probiotic BC 30 we have used in this amazing blend. Facebook fan Sheryl Ann Lipp says her favorite way to enjoy it is with a teaspoon of warmed honey. Mmmm, sounds great!
At Bigelow, in addition to sipping tea, we love sharing creative, delicious ways to enjoy our 130 varieties. We especially love it when our fans like Engineer Mommy can take a blend that supports healthy digestion and fold it into a sweet dessert treat!
We bet these simple, sweet and tangy Bigelow Lemon Ginger Bars might become a new favorite! Check out the recipe and enjoy!
Ingredients
For the crust
1 cups Flour
1/4 cup Sugar
1/2 cup Butter
For the filling
3/4 cup Sugar
1/3 cup Flour
3 Eggs
3 tbsp. Steeped Tea: Bigelow Tea Lemon Ginger
1/4 tsp. Ginger Powder
Zest And Juice Of 2 Lemons
Powdered Sugar, For Topping
Instructions
For the crust
Preheat the oven to 350 degrees F. Grease a pan with butter.
Combine the flour and sugar. Add the butter and stir until it resembles small crumbs.
Bake for 20 minutes. Let cool.
For the filling
Combine the sugar, ginger powder and flour in a mixing bowl. Add the eggs and use a whisk to combine.
Add the lemon zest & lemon juice and combine.
Steep 1 Bigelow Tea Lemon Ginger teabag in a 1/2 cup boiling water. Let cool. Add 3 tbsp of the steeped tea to the lemon filling mixture.
Pour over crust. Bake 20 minutes.
Let cool and top with some powdered sugar. Cut into squares.