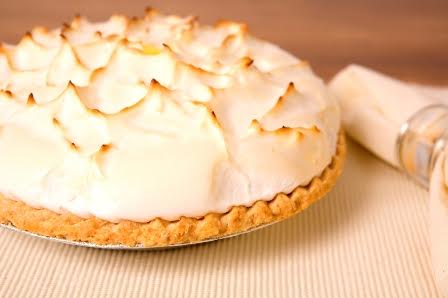 It's no secret that Bigelow Tea's Earl Grey contains real oil of bergamot harvested from trusted long-term suppliers. Since the 1970's the Bigelow family has partnered with family farmers in Calabria Italy to blend the most flavorful Earl Grey tea where fans like Godess Athena say then can even smell the difference (we agree!).
This aromatic tea blend is not only delicious on its own- it's also a bold, flavorful ingredient for a dessert. This Bigelow Earl Grey Meringue Pie recipe starts with a flaky, buttery crust and is topped with a creamy, bergamot flavored filling and fluffy meringue. And note, perfecting your meringue takes practice but a few of these tips will give you a head start. For example, always start with a clean, dry bowl and use the largest, finest-wired whisk to whisk the egg whites. You'll know your baked meringue is done when you can easily lift it away from the Earl Grey filling.
The next time you're craving something delicious for dessert, whip up this Bigelow Earl Grey Meringue Pie! We guarantee it's so delicious, you'll feel like a professional baker and your family and friends will think so too!
Bigelow Earl Grey Meringue Pie
Ingredients
1 1/2 cups water
1 cup sugar
2 tablespoons all-purpose flour
3 tablespoons cornstarch
1/4 teaspoon kosher salt
2 tablespoons unsalted butter
4 egg yolk
1  puff pastry shell
4 egg white
6 tablespoons sugar
1 tablespoon lemon juice
1 teaspoon cream of tartar
Instructions
Heat oven to 400.
Place pastry into baking dish of choice and make holes with fork to let air escape. Place some weight on pastry to prevent it from rising and bake till golden brown. Let cool till ready for use.
Heat water and steep tea ten minutes.
Combine 1 cup sugar, flour, cornstarch and salt and stir into tea.  Bring to a boil and whisk in butter.
Stir together egg yolks and temper with hot tea mixture and then return to pot and bring back to a boil then pour into prepared pasty shell.
Whisk egg whites with either lemon juice or cream of tartar. When soft peaks form add sugar and continue whipping till firm peaks form.
Spread over pastry and let it touch edges. Bake at 400 till meringue begins to brown and let cook till meringue is firm and cooked through. If meringue begins to get to dark lower temp to 300 and let cook till meringue sets.
Chill and serve.