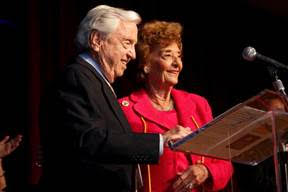 Back in 1945, when Bigelow Tea first started, Ruth Campbell Bigelow could only afford a single-color label for her tea. Each night, her son, David, Jr., would help his father hand paint the two women on the original label. Then, in the morning, they would put the tea into the family station wagon and sell it store by store. David, Jr. has surely come a long way since painting labels. Today, he and his wife, Eunice, are co-chairmen of the company and were recently recognized with a Lifetime Achievement Award from the Specialty Food Association at its Summer Fancy Food Show on June 27 in New York City.
While Bigelow Tea attributes its beginnings to Ruth and the flagship tea "Constant Comment®", it was her son, David, and his wife, Eunice, who paved the way for the growth of the U.S. specialty tea market. David, with Eunice's unwavering support, led the company with a spirit of determination to its current prominence as the country's #1 specialty tea company. His integrity, intelligence and kindness also helped form the brand's personality and its success.
"All of us at Bigelow Tea could not be more proud to see this Lifetime Achievement Award bestowed on my parents," said Cindi Bigelow, third-generation president and CEO of the company. "They are admired not only for the significant impact they have had on the specialty tea industry, but for the positive influence they have had on lives of the thousands of employees whose privilege it has been to work alongside them during Bigelow Tea Company's more than 70 years. Their passion, creativity and guidance are without measure," Cindi remarked.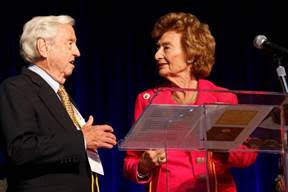 In addition to making Bigelow Tea the U.S. industry leader in specialty teas, Eunice and David's more recent accomplishments include their significant 2003 additional investment in South Carolina's 127-acre Charleston Tea Plantation. It was their dream to restore this unique site, which is America's largest tea garden, and share this vibrant piece of Americana for all to enjoy. Today, the beautiful Charleston Tea Plantation has become the standard bearer for the long and illustrious American tea story and welcomes 70,000 visitors each year — a suitable landmark to complement the profound impact their efforts made on the consumer tea market.
So raise a cup to Eunice and David Bigelow. Without their ingenuity, vision or drive, Bigelow Tea might not be celebrating its 70th year. It's been the labor of a lifetime, a labor truly worthy of a Lifetime Achievement Award.