If you've had the pleasure of eating Spanish, Cuban, Mexican or other Hispanic inspired foods, you know how good they can be. The question is how to make your dinner at home sizzle the same way; Bigelow Tea (or Té Bigelow) has an answer!
Here are two fantastic Bigelow Tea inspired recipes, one entrée and one dessert, for you to make dinner a south of the border sensation right at home. Invite your friends – it's time for a fiesta!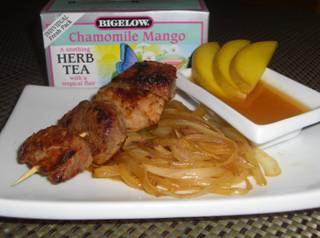 Masitas de Puerco Fritas (Fried Pork Chunks)
with Bigelow Chamomile and Mango Salsa!
In English and Spanish
Fried Pork Chunks with Bigelow Chamomile and Mango Salsa.

Masitas de Puerco Fritas

Serves 4 for dinner and up to 8 as appetizer

Fried Pork Chunks

2 lbs Pork loin

1 cup olive oil
6 to 8 garlic cloves, minced
1 cup sour orange juice or 1/2 cup orange juice combined with 1/2 cup lime juice
1/2 tsp ground cumin

1/2 tsp dried oregano
1/2 tsp salt

1/2 tsp pepper

2 cups water

1 med onion, cut in half and thinly sliced

Sauce:

1 cup water

6 bags Bigelow Chamomile Mango Herb Tea Bags

3/4 cup sugar

1 cup pureed mango

1/4 cup orange juice

Pork:

Prepare Mojo (the marinade) Combine sour orange juice (or the orange and lime juice), 1/2 cup olive oil, garlic, oregano, cumin, salt and pepper. Cut Pork into 2 inch chunks. Pour mojo (marinade) over pork chunks. Cover with plastic wrap and put in refrigerator to marinade for at least 4 hours. The longer the better.

Remove pork from marinade and into a pot. Pour two cups of water and 1/2 cup olive oil over the pork. Bring water to a boil then reduce heat to bring to a simmer. Continue to simmer, uncovered until all water evaporates (30 to 45 minutes, approx.). The oil will remain. Fry the pork in the oil until crispy and brown on the outside. Remove pork from the pot. Sauté onion slices in the same pot used for the pork until transparent. Serve pork with the onions.

Sauce:

Bring water to boil. Remove from heat and let tea bags steep for 5 minutes. Remove tea bags. Add sugar, orange juice and mango puree to tea. Bring back to boil and reduce to simmer. Let liquid reduce in volume by half. You will have a syrup like consistency. Remove from heat. Let cool. Serve over the pork chunks or on the side as a dipping sauce.

Masitas de Puerco Fritas con Salsa  de Bigelow Manzanilla & Mango.

4 Porciones

Masitas de Puerco Fritas

2 lbs Lomo de cerdo picado en cubos

1 tza Aceite de oliva
6 – 8 dientes de ajo, picaditos
½  tza de Jugo de naranja con ½ tza jugo de lima
½  cdta Comino

½  cdta Orégano seco
½  cdta Sal

½  cdta Pimienta

2  tzas Agua

2 Cebollas medianas, cortadas en rebanadas finas

Salsa:

1 tza Agua

6 bolsas de té – Bigelow Manzanilla Mango

¾ tza Azúcar

1 tza  puré de mango

¼ tza Jugo de naranja

Para el cerdo:

Prepare el marinado combinando el jugo de naranja y limón, ½ taza de aceite de oliva, ajo, orégano, comino, sal y pimienta.  Vierta el marinado sobre el cerdo.  Cúbralo con plástico y déjelo en el refrigerador por no menos de 4 horas.  Mientras más tiempo mejor.

Ponga el cerdo en una olla y agréguele el agua y ½ taza de aceite de oliva. Haga hervir y baje la temperatura. Continúe a temperatura baja, destapado hasta que el agua se evapore (aprox. 30-45 minutos). El aceite se quedará en la olla.  Sofría el cerdo en el aceite hasta quedar dorado por todos lados.  Remueva el cerdo.  Sofría las cebollas en el mismo aceite hasta que estén transparentes. Sirva con el cerdo.

Salsa:

Hierva el agua.  Remueva del calor y añada bolsas de te por 5 minutos. Añada azúcar, jugo de naranja y puré de mango al té.  Vuelva a hervir y baje la temperatura.  Deje reducir el volumen a la mitad.  La consistencia será como syrop.  Remueva del calor y deje enfriar.  Sirva con el cerdo.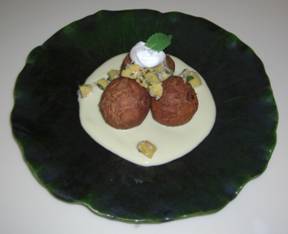 "Chamomile Mango" Vanilla Fritters
In English and Spanish
"Chamomile Mango" Vanilla Fritters

Buñuelos de Vanilla con Salsa de Manzanilla Mango

Serves 4


Vanilla Fritters:

1 ½ cups all purpose flour

1 ½  teaspoon baking powder

½  teaspoon salt

1 egg

4 tablespoons (½  stick) melted butter

1 teaspoon vanilla extract

1 ½ teaspoon granulated sugar

1/3 cup milk

2 cups vegetable oil, for deep-frying

Chamomile Mango Sauce:

8 Bigelow Chamomile Mango Tea Bags

½ cup heavy cream

½ cup milk

3 tablespoons granulated sugar

2 egg yolks

pinch of salt

Mango-Mint Salad:

1 cup mango, diced

1 tbsp fresh mint leaves, chopped

2 tbsp lemon juice

1 tbsp honey

¼ cup pecans, toasted & chopped

Directions:

For the Vanilla Fritters:

Sift together the flour, baking powder, and salt.  In a separate bowl whisk together the eggs, melted butter, vanilla bean paste, granulated sugar.  Add milk and stir to combine.  Pour wet ingredients into dry, stir until soft dough forms.  Over a lightly floured surface, knead the dough.  Divide the dough into 12 equal pieces.  Shape into balls.  Cover with a slightly damp paper towel and let rest for 15 minutes.

Pour vegetable oil into deep skillet.  Heat until oil reaches 360 degrees Fahrenheit.  Fry until golden brown, a few at a time.  Drain on paper towels.

For the Chamomile Mango Sauce:

Add cream, milk, 1 tablespoon of the granulated sugar, and tea bags to saucepan.  Bring to a boil.  Remove from heat and let tea infuse for 15 minutes.   Remove tea bags from milk-cream mixture and simmer while whisking egg yolks, salt, and remaining sugar in a separate bowl.  Pour half the milk-cream mixture into the egg yolks, while whisking continuously.  Pour back into saucepan and cook over medium-low heat.  Stir continuously with a wooden spoon for 2-3 minutes, or until sauce thickens slightly and coats the back of the spoon.  Strain sauce into bowl.  Let cool to room temperature.  Chill for at least an hour before serving.

For the Mango-Mint Salad:

Combine ingredients and toss.  Chill for 15 minutes before serving.

Serving Suggestion:

Fritters should be served hot, so fry when ready to serve.  Ladle ¼ cup of the chamomile mango sauce on serving plate.  Arrange 3 vanilla fritters over sauce.  Drizzle with a bit of the sauce. Top with 2 tablespoons of mango-mint salad.  If desired garnish with whipped cream and mint leaves.

Chamomile Mango Sauce and Mango-Mint Salad can be prepped one day ahead.

Yields 4 servings.

Buñuelos de Vanilla con Salsa de Manzanilla Mango

Sirve 4 personas

Buñuelos de Vainilla:

1 ½ tza harina

1 ½  cdta de polvo para hornear

½  cdta sal

1 huevo

4 cda mantequilla derretida

1  cdta extracto de vainilla

1 ½ t cdta azucar granulada

1/3  tza leche

2 tzas aceite vegetal, para freír

Salsa de Manzanilla  Mango:

8 bolsitas de te Bigelow Manzanilla Mango

½ tza de crema espesa

½ tza leche

3 cda azúcar granulada

2 yemas de huevo

Una pizca de sal

Ensalada Mango-Menta:

1 tza mango, picadito

1 cda hojas de menta, picaditas

2 cda jugo de limón

1 cda miel

¼ tza pecanas, tostadas y picadas

Instrucciones:

Para Buñuelos:

Cierna la harina, polvo para hornear y sal.  En un recipiente separado bata juntos los huevos, mantequilla derretida, extracto de vainilla, azúcar granulada.  Agregue la leche y revuelva para combinar. Vierta los ingredientes mojados en los secos, revuelva hasta formar una pasta suave. Sobre una superficie con un poco de harina, amase la pasta. Divídala en 12 pedazos iguales. Forme en bolas. Cúbralas con una toalla de papel levemente húmeda y deje descansar por 15 minutos. Vierta el aceite vegetal en una sartén profunda. Caliente el aceite hasta que alcance 360 grados Fahrenheit. Fría hasta el doraditos, algunos a la vez. Drene en las toallas de papel.

Para la salsa de Manzanilla Mango:

Agregue la crema, la leche, 1 cda de azúcar granulada, y las bolsitas de té a la olla y hierva. Quite del calor y deje el té infundir por 15 minutos. Quite las bolsitas de té de la mezcla e hierva a fuego lento mientras que bate las yemas de huevo, la sal, y el azúcar restante en un tazón de fuente separado. Vierta la mitad de la mezcla de la leche-crema en las yemas de huevo, mientras que bate continuamente. Vierta nuevamente dentro de la olla y cocine a fuego medio-bajo. Revuelva continuamente con una cuchara de madera por 2-3 minutos, o hasta que la salsa espese levemente y cubre la parte posterior de la cuchara. Cuele la salsa en un recipiente alterno. Deje refrescar a temperatura ambiente. Enfríe por lo menos una hora antes de servir.

Para la ensalada de Mango-Menta:

Combine todos los ingredientes y revuelva.  Enfríe por 15 minutos antes de servir.

La salsa y ensalada se pueden preparar 1 día antes.