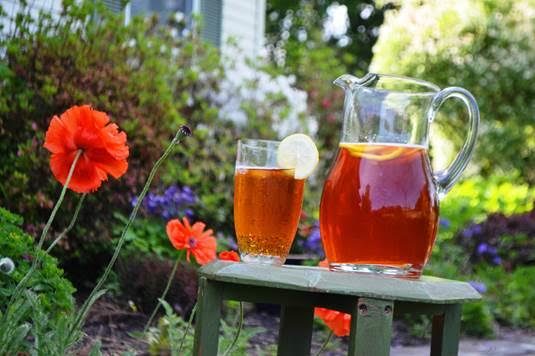 It's Iced Tea Month and this is when the Bigelow Tea family really enjoys creating iced tea combinations! All it takes is two of your favorite Bigelow Teas and a little imagination! A couple of Bigelow favorites are Green Tea and Red Raspberry Iced Tea and Cranberry Hibiscus and Orange & Spice® Iced Tea. Is your thirst quenching just thinking about these combos? And do you make your own mix-ups? Share your tasty suggestions!
If you don't have time to brew your own, Bigelow Tea has a great, new solution coming soon: its new line of certified organic, brewed and bottled iced teas. Made from real organic tea leaves and natural flavor ingredients, Bigelow Home Blend Iced Teas come in five ready-to-drink flavors: Sweet Orchard Peach, Half & Half Tea/Lemonade, Citrus Pomegranate Green Tea, Mango Lychee Green Tea, and Simply Unsweetened.
For larger groups of people, be sure to check out the Bigelow Tea Iced Tea line. One box contains six family-size tea bags that each make a quart of perfectly blended tea. Try flavors like Iced Tea and Lemonade with Pomegranate, Perfect Peach® Herbal Iced Tea, Red Raspberry™ Herbal Iced Tea, Green Tea with Pomegranate Iced Tea, and Iced Tea and Lemonade for your next family picnic!
Yes, it's Iced Tea Month, but the best thing about iced tea is that it's at your fingertips all year long. One last suggestion: try @ewlarson546's recommended treat of adding lemonade ice cubes and mint leaves to your glass of iced tea. Even more refreshing! Can't you just hear that ice clinking? Happy Iced Tea Month!
Image via Cindy Manning