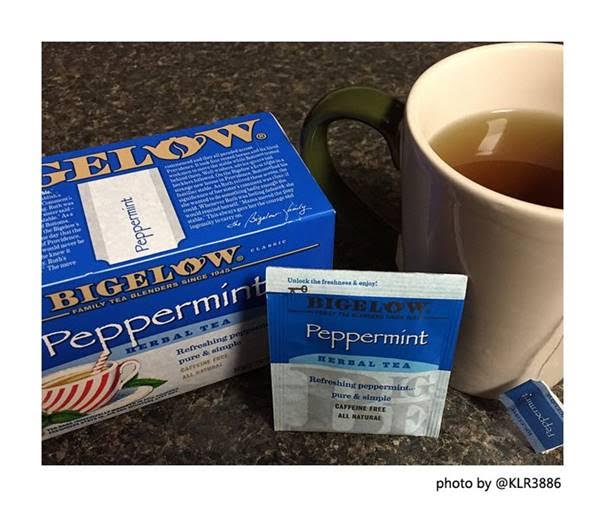 It's the most wonderful time of the yeaaar! Hello, December! This season was made for all things cozy and warm, and a cup of Bigelow Tea is no exception. Don't get us wrong — like you, we like to drink tea all year 'round, but there's something extra special about cuddling up by a fire or with a blanket, and a mug of tea. And what goes better with the cold weather outside than the cool and crisp flavor of Peppermint? (Though, we suggest enjoying that flavor inside, where it's warm…)
We love the versatility of peppermint. It's clean and invigorating, and we use only the smoothest, most refreshing peppermint in a variety of our flavors, such as Peppermint Herbal Tea, Sweet Dreams® and Peppermint Bark Herbal Tea. In fact, few people realize that peppermint is actually a hybrid between spearmint and water mint, but everyone recognizes its iconic minty-fresh scent! And when we say everyone, we mean all the way back to ancient times: dried peppermint leaves are said to have been found in several Egyptian pyramids carbon dated back to 1,000 BC. Whoa, kind of like history's first air freshener…
Since then, peppermint has also been recognized for its medicinal properties — research indicates that it may aid in digestion, and may help to ease abdominal pain and nausea, alleviate hay fever symptoms, enhance memory and increase alertness, and clear your respiratory tract. As if you needed another reason to drink a cup beyond how delicious it tastes, right?
Whether you're looking for a wake-up call in the morning with our Green Tea with Mint, or a soothing retreat before bed with some Mint Medley or Chamomile Mint Herbal Tea, it's no wonder that mint is one of our most wildly-loved ingredients. Give it a try – who knows, maybe (just, maybe!) you'll find your comfort and joy in a cup.
Don't forget to share your coziest peppermint moments by tagging #TeaProudly on your favorite social media channel or come over to www.teaproudly.com and share with us there.  Either way, let's share a mug or two together!