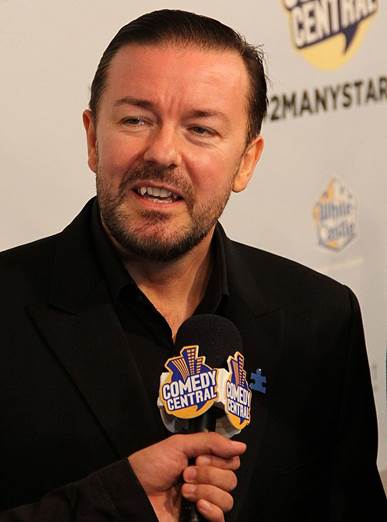 Bigelow Tea was wondering: when your résumé includes writer, director, actor, producer, author and stand-up comedian, how do you find time for a good cup of tea? By not being too particular about how you take it, according to British funny man Ricky Gervais! In an interview with Bon Appétit, Ricky shared, "I'll have what we call a builder's tea, which is an English Breakfast with a little bit of milk." He also enjoys a cup of Earl Grey or a bit of chamomile to relax.
Perhaps Ricky's love of tea influenced the American version of The Office, which he co-produced­­. Bigelow Tea made a prominent cameo in the kitchen of the popular workplace sitcom during one of its episode! And wouldn't it be nice if Bigelow Tea could also make a guest appearance in Ricky's cup?  Here's hoping that Ricky Gervais keeps a carton of milk in his fridge and a box of Bigelow Tea English Breakfast in the cupboard.
If you could host one celebrity for afternoon tea, who would you invite? Cheers!
Image by Thomas Atilla Lewis via Flickr.com