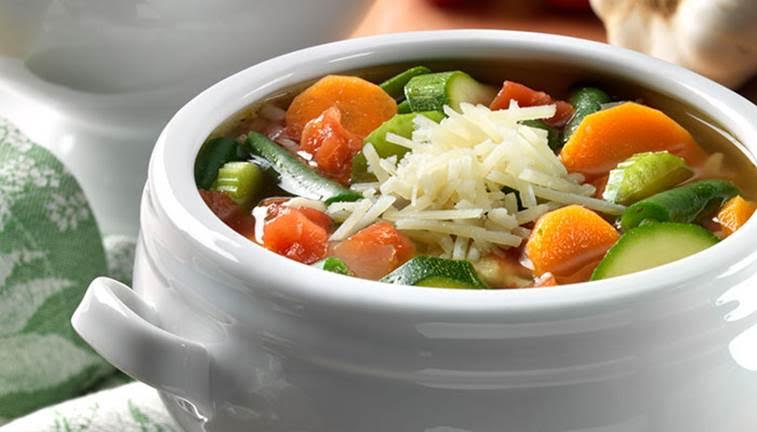 Bigelow Tea's love for greens (which in this case includes not only tea but vegetables too!) is shared with this different take on Garmugia, a spring vegetable soup, featuring Bigelow Green Tea with Lemon as a zesty ingredient.
While Bigelow Tea, a family-run, third-generation company, has been in business for over 70 years, this traditional Italian dish has a longer history dating  back to the 16th or 17th century and is traced to the Tuscan city of Lucca where the soup was made with the vegetables harvested in the spring. Historically Garmugia included a medley of vegetables, bits of meat, and pieces of bread blended and slow cooked to perfection. Our version is very similar except the chef can find the ingredients in the grocery store and it can be ready to eat much faster, thankfully.  And we think our addition of Bigelow Green Tea with Lemon will make it even more enjoyable than the 17th century version!
Turn up the green this spring – give this recipe a try and let us know what you think by leaving a comment here or by writing a review here. We hope it makes your next dinner gathering or comfort food at home simply delish!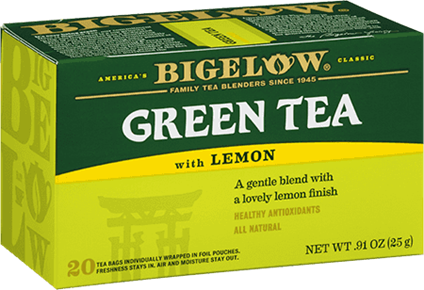 Garmugia (Spring Vegetable Soup)
40 Minutes, Serves 8
Ingredients
7 cups (1 ¾L) boiling water
3 tablespoons (45mL) extra-virgin olive oil
1 fresh Italian sausage, casing removed and meat crumbled
3 small white onions, thinly sliced
3 oz. (90g) ground beef
½ cup (125mL) frozen lima beans or frozen fava beans
½ cup (125mL) frozen peas
½ cup (125mL) asparagus tips
½ teaspoon (2.5mL) salt
½ teaspoon (2.5mL) freshly ground pepper
Croutons:
¼ cup (60mL) extra-virgin olive oil
2 cloves garlic, crushed
4 slices coarse white bread, cut into ½ inch cubes
1 tablespoon (15mL) Italian parsley, chopped
Instructions
Place Bigelow Green Tea with Lemon tea bags into a large bowl; pour 7 cups boiling water over the tea bags. Let steep for 5 minutes. Remove tea bags, squeeze well and set aside. In a large saucepan over medium heat, warm the olive oil. Add the sausage meat, onions and ground beef; sauté until meat browns and onions turn opaque. Add the beans, peas and asparagus and stir well. Pour in reserved tea, cover and bring to a boil. Reduce heat and cook covered until the flavors are blended, about 30 minutes, skimming off any froth from the surface of the soup. Halfway through the cooking time, season with salt and pepper. Serve. To prepare the croutons, add olive oil to frying pan and heat over medium high heat. Add the garlic and sauté until it begins to turn golden. Remove garlic and add bread cubes and stir until golden brown on all sides, about 4 minutes. Using a slotted spoon, transfer the crouton to paper towels to drain. Sprinkle with parsley. Ladle hot soup into warmed soup bowls and garnish with croutons.