Tea drinkers longing for a stronger wake-up brew – and coffee drinkers wanting to add variety to their repertoire of caffeinated beverages – now have options! Bigelow Tea introduces American Breakfast teas, an all-new line of robust black teas naturally formulated with 50% more caffeine than the average cup of tea.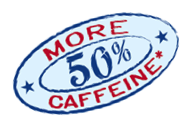 New niche, new opportunity
Bigelow American Breakfast Tea creates a new niche in the category that will be embraced by tea lovers and coffee drinkers alike. As one early taste tester noted: "This tea is perfect for someone like me who likes the boost and buzz of coffee but not the acidity. I would keep this on hand as an alternative to my morning java, as well as for a mid-morning or afternoon pick-me-up – not just for breakfast."
Not your ordinary cup of tea
Line priced at $2.99, this unique and innovative beverage naturally delivers all the benefits of Bigelow's smooth and flavorful black tea with a higher caffeine boost than typically found in a cup of tea. It's the perfect way to start the day — or get an extra dose of energy any time of day, without nerve-jangling side effects. The full line consists of:
Perfectly blended pick-me-up for any time of day.
New Bigelow American Breakfast Teas are specially formulated with natural black tea extract – a concentrated form of brewed black tea – to deliver 60-90mg of caffeine per cup, versus the typical 30-60mg in regular black tea.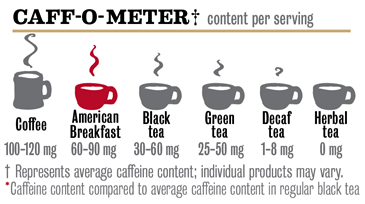 Yet despite the significantly higher caffeine content, drinkers will not experience the 'rush and crash' effect typical of coffee thanks to L-Theanine, the naturally occurring compound found almost exclusively in tea.
Cindi Bigelow, 3rd generation president and CEO of the family-owned company, explains what tea drinkers instinctively already know. "The lift you get from the caffeine in tea is different from that of coffee. That's because tea has the added benefit of Theanine, a naturally occurring component in tea. Studies have shown this unique combination gives tea drinkers a sustained energy boost and, at the same time, a feeling of relaxation and focus similar to what is achieved through meditation."
All natural, all delicious
True to family tradition, Bigelow American Breakfast Tea is crafted with premium, all natural ingredients to create a beautiful cup of tea. Its superb tea leaves are from the preferred high-grown bushes sourced from the world's finest tea gardens. These pure blends — even the honey-flavored option that derives its flavor from natural honey, contain no sugar and no calories.
Like all Bigelow teas, each bag is individually wrapped in Bigelow's signature foil pouch to protect it from air, moisture and surrounding aromas, to keep the tea as fresh and flavorful as the day it was blended. This special packaging makes it easy to tuck away in a pocket or handbag to enjoy the fresh, robust flavor on the go.
And All-American!
Bigelow American Breakfast Teas are teas created for the American consumer's palate and are blended and packaged in the U.S.A.
Consumers will be further pleased to know that a portion of the proceeds from the sale of the American Breakfast Tea line goes to support our U.S. service men and women.
In the words of Cindi Bigelow, "I invite you to sip a cup of our beautiful American Breakfast Tea; made in America, by an American family, for the American consumer. And as always, we hope our teas delight you."