We have mentioned several reports on the healthful benefits of Green Tea, covering a range of conditions including heart disease, cancer and even dementia. We are happy to see that scientists as well as Tea Lovers are taking these health benefits to heart! Now, new research published in the US journal Cancer Prevention Research, finds that a chemical found in green tea appears to slow the progression of prostate cancer.
In this study, Philadelphia-based researchers tested a compound called Polyphenon E., and results pointed to a significant decline in certain biomarkers – molecules that are indicators of developing cancer. Dr James Cardelli, from the Prostate Cancer Charity who led the study, said that this Polyphenon E. compound "may have the potential to lower the incidence and slow the progression of prostate cancer."
John Neate, chief executive of the Prostate Cancer Charity, said: "The results of this study suggest that there is merit in further research into the effects of extracts of green tea…on the prevention of prostate cancer and in controlling progression in men already diagnosed with the disease."
More research includes another clinical study, recently reported at the 96th Annual Meeting of the American Association for Cancer Research.  Research leader Saverio Bettuzzi, Ph.D. stated "Numerous earlier studies, including ours, have demonstrated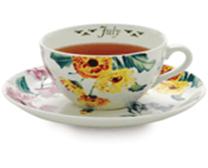 that green tea catechins…inhibited cancer cell growth in laboratory models." Bettuzzi explained, "We wanted to conduct a clinical trial to find out whether catechins could prevent cancer in men. The answer clearly is yes."
At Bigelow Tea, we believe in the simple and healthful powers of Green tea, and there's one area of research that we all to take part in – and that's a great cup of tea to start your day or take a well deserved break.
Here's to your health!