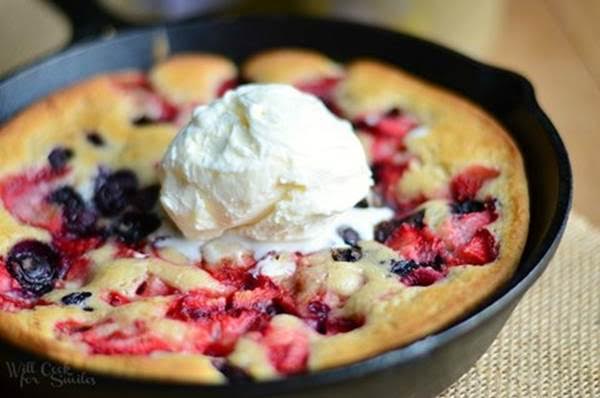 Any time is the right time for dessert … and if it features Bigelow Tea, it's even better! This delicious and simple Triple Berry Skillet Tea Cobbler is made with Bigelow Tea's "I Love Lemon"®. This light, moist, tea-infused cake includes blueberries, raspberries and strawberries and will be ready in under an hour. It's made in a cast iron skillet, so it is pretty to serve! Pair your cobbler with a hot cup of Bigelow Wild Blueberry with Acai Herbal Tea—which @panglugayawan tweeted "is heaven,"—and you've got the perfect after-dinner treat!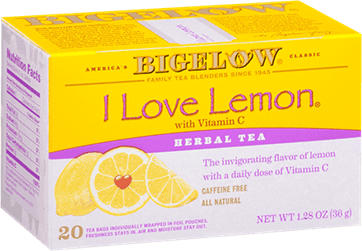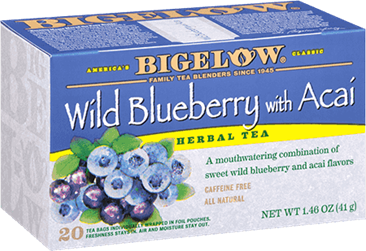 Submitted by Lyuba
Ingredients
1 cup blueberries
1/2 cup raspberries
1/2 cup chopped strawberries
1 Tbsp sugar
1 tsp lemon juice
Dash of cinnamon
1 cup of flour
2/3 cup sugar
1/4 tsp salt
1 1/2 tsp baking powder
1 egg
1/2 cup Bigelow "I Love Lemon" herbal tea (1/2 cup of boiling water and 1 tea bag)
1/4 cup sour cream
1 tsp vanilla extract
1 Tbsp butter
Instructions
Use a 6 1/2 inch skillet.
Preheat the oven to 350.
Place a tea bag in a cup with 1/2 cup of boiling hot water and steep for 5-6 minutes. Let it cool to room temperature.
In a small bowl, mix berries, sugar, lemon juice and cinnamon.  In a large mixing bowl, whisk together egg and sugar vigorously for about a minute. Whisk in salt, sour cream and vanilla, until all well combined. Whisk in cooled tea.
Whisk in flour until all incorporated. Preheat seasoned skillet over medium heat and melt butter in it. Swish butter all over the skillet. Take off heat. Pour in most of the batter in the skillet and add berries over the top. Drizzle in remaining dough over the top. Place skillet in the oven and bake for 33-37 minutes.