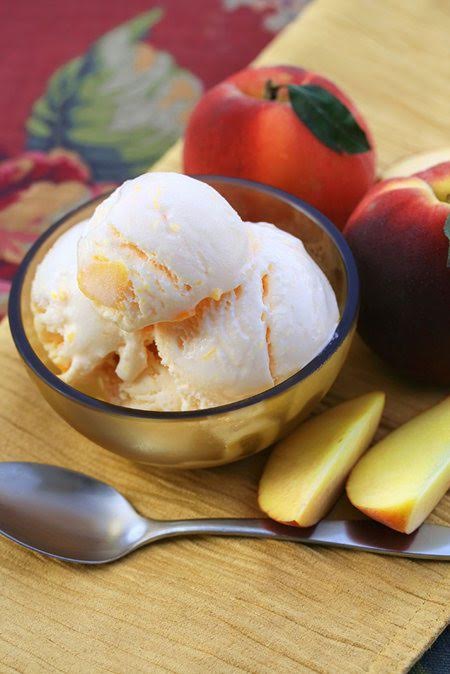 Ice cream is totally an acceptable meal during summer. And you know what goes great with ice cream? Bigelow Tea. Besides, a balanced diet during National Ice Cream Month is basically a glass of iced tea in one hand and an ice cream cone in the other, right?! If you're not quite convinced, here are three reasons why you should include both in your July repertoire.
I scream, you scream, we all scream for ice cream! Who doesn't love a dripping cone of the good stuff? Plus, it's got quite the history. Did you know that ice cream's origins are known to reach back as far as the second century B.C.? Legend has it that Alexander the Great enjoyed snow and ice flavored with honey and nectar, and more than a thousand years later, Marco Polo returned to Italy from the Far East with a recipe that closely resembled what is now recognized as sherbet. In America, the first advertisement for ice cream appeared in the New York Gazette on May 12, 1777, when confectioner Philip Lenzi announced that ice cream was available "almost every day." And then, during World War II, the first "floating ice cream parlor" was built for sailors in the western Pacific. Those soldiers deserved it!
Keep things local! Okay, so ice cream is delicious, but it's also a great reason for repeatedly going to the local ice cream shop. In fact, family-owned businesses make up the majority of ice cream makers in the U.S., according to the International Dairy Foods Association. For generations, these "mom and pop" ice cream parlors have been meeting our nation's craving for a favorite frozen dessert. Yum! And, as a family-owned business, Bigelow Tea is celebrating all things "made in the USA" this month … and we're excited to add local ice cream shops to the list!
It's hot out there! Chill out with some homemade ice cream. How about a scoop of Green Tea with Peach or Mint Tea Chocolate Chip Ice Cream! (Holy smokes, both sound incredible.) Don't worry, recipes for both are right here! If you try your hand at either, be sure to tag #TeaProudly so we can drool… errr, swoon! Enjoy!
(pictured at top)
Ingredients
2 cups (500mL) heavy cream
1 cup (250mL) half-and-half
¾ cup (180mL) sugar
Dash of salt
½ teaspoon (2.5mL) vanilla extract
1 cup (250mL) diced fresh or canned peaches, drained
Instructions
Combine heavy cream and half-and-half in a medium saucepan and bring to a simmer over medium heat, being careful not to boil. Turn off the heat; add sugar and salt, stirring to dissolve. Add the vanilla and the tea bags and let the mixture cool to room temperature, occasionally stirring and gently pressing the tea bags to infuse cream with the tea flavor. When cool, cover tightly and place in the refrigerator overnight. Before freezing, pour the mixture through a sieve set over a large bowl. Press the tea bags to release flavor. Add the diced peaches and freeze in an ice cream maker according to the manufacturer's directions.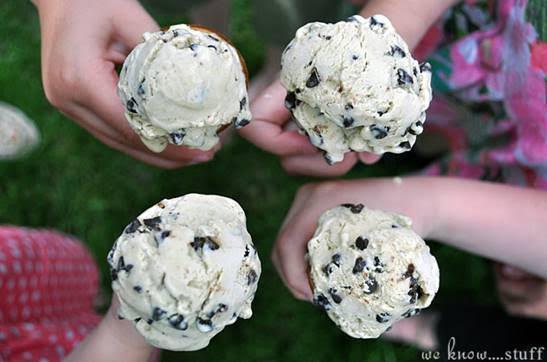 Ingredients
1 cup milk
 3/4 cups sugar
 6 large egg yolks
 2 tablespoons all purpose flour
 1/4 teaspoon salt
 1 cup half-and-half
 1 cup heavy cream
 1 1/3 cups of mini semi-sweet chocolate chips
Instructions
In a mixer, (I heart my KitchenAid Artisan Stand Mixer), beat the sugar into the eggs until thickened and pale yellow. Beat in flour and salt. Set aside.
Bring the milk to a boil in a heavy medium saucepan. Remove from heat. Stir in the tea bags, cover, and set aside to steep for 15 minutes.
Gently press down on the tea bags to make sure all of the mint flavor gets into the milk, and then remove the tea bags. (Side note: I actually ripped open one of the tea bags – and loved how the tea looked swirling around in the milk. If this happens to you, you can strain your milk through a fine mesh sieve, or just leave it be. It didn't bother any of us and looked pretty cool!)
Add the half-and-half and return to a simmer over low heat. Slowly beat the hot milk and half-and-half into the egg yolks and sugar. Pour the entire mixture back into the pan and place over low heat. Stir constantly with a whisk or wooden spoon until the custard thickens slightly. Be careful not to let the mixture boil or the eggs will scramble. Remove from the heat and pour the hot tea custard through a strainer into a large, clean bowl.
Cover and refrigerate until cold or overnight. (I let mine sit overnight to enhance the tea flavor, but if you want to speed up the cooling process, set it into an ice bath. Just make sure your mixture is completely chilled before adding to the ice cream machine.)
Stir the chilled custard, and then freeze in 1 or 2 batches in your ice cream machine according to the manufacturer's instructions.
When the ice cream is semi-frozen, slowly add 1 1/3 cups of mini semi-sweet chocolate chips and let the ice cream machine mix it in.
When finished, the ice cream will be soft but ready to eat. For firmer ice cream, transfer to a freezer-safe container and freeze at least 2 hours.
*This recipe is adapted from The Ultimate Ice Cream Book by Bruce Weinstein.