What a great way to start the holidays! We had the distinct pleasure of coming together and working with Joe Torre, Phil Simms and Terry Francona in New York on a new ad for Bigelow Tea. It was hard work for to put together all of the details and arrangements two days before Christmas but everything went off without a hitch.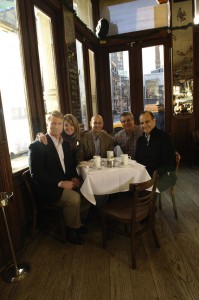 Phil Simms (former quarterback for the NY Giants and TV sportscaster for CBS), Cindi Bigelow (President Bigelow Tea), Terry Francona (manager Boston Red Sox), Bob Kelly (SVP Bigelow Tea) and Joe Torre (manager LA Dodgers)
Once again I think we captured something magical for the Bigelow brand and it was so great to see the collegiality and respect that Joe, Phil and Terry had for each other. More importantly they were true professionals toward everyone involved in the project. We even had Cindi Bigelow talking tea and other topics with Joe, Phil and Terry which was captured on video and will appear on bigelowtea.com in the near future.
It was a great way to end one year and begin the next!
Bob