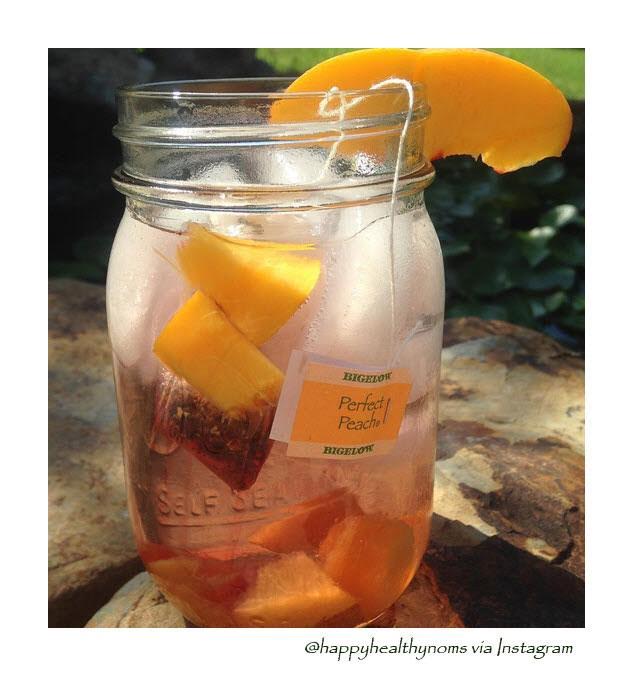 July 4th is right around the corner, and if you're a red, white and blue lovin' individual, you know that this is a weekend filled with flags, fireworks, BBQs and a whole lot of patriotism! And while you may be juggling all sorts of holiday events and festivities, there's no reason why you can't do it with a glass of Bigelow iced tea in hand! Actually, how about you just plan out your whole menu now? Because – no lie – you're gonna be the talk of the town after you serve these ah-mazing dishes. Whether you're having a fancy-schmancy cocktail party or a backyard cookout, these dishes will rock your world. From beverages that will keep you cool until the last firework goes off, to a sauce who is boss, these recipes are in it to win it. Enjoy! Don't forget to tag your masterpieces with #TeaProudly on social media – go on, brag a little…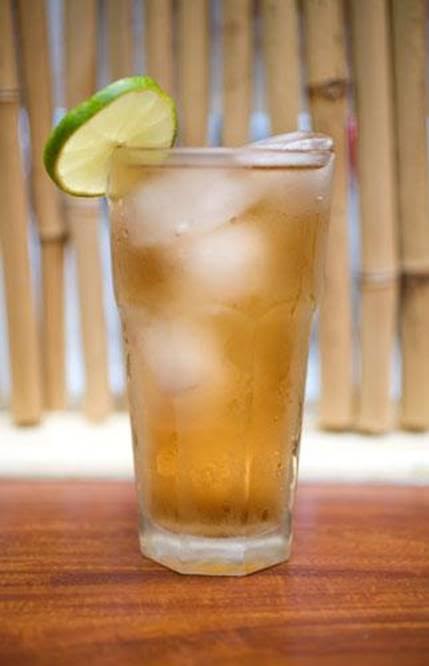 Ingredients
4 cups water
1 quart lemon-lime seltzer water
Lemon or lime, for garnish (optional)
Instructions
Place tea bags into a heat-stable container. Pour one quart boiling water over tea bags and allow to steep 7-10 minutes. Squeeze and remove tea bags. Allow tea to cool, then chill. To serve, combine equal parts of iced tea with lemon-lime seltzer water in ice-filled glasses. Stir gently; garnish with lemon or lime, as desired.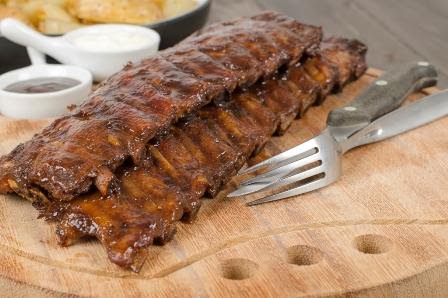 Ingredients
26 pork backribs, 2 racks, 13 bones
1 sweet onion, julienned
4 celery ribs, julienned
2 carrot, julienned
2 tablespoons kosher salt
1/2 tablespoon black pepper
12  Bigelow Green Tea, remove string
1 jicama, julienned
2 green apple, julienned
2 celery, julienned
1 carrot, julienned
4 scallion, sliced
1/2 cup rice wine vinegar, steeped with 1 bag Green Tea with Lemon
1 teaspoon kosher salt
1 cup extra virgin olive oil
Instructions
Combine ribs with onion, celery, carrot, salt, pepper and eight tea bags. Bring to a simmer and cook till fork tender. While ribs are simmering, steep Bigelow Green tea with lemon with cold vinegar, about 1 hour. Cut all jicama, apple, celery and carrot into julienne. Slice scallion on a long bias. Toss all together. Combine vinegar and oil together. Toss vegetables and fruit with salt and vinaigrette mixture and chill. When ribs are ready let cool in poaching liquid. Remove ribs from poaching liquid and return liquid to heat and bring to a boil and reduce to two cups volume. Add two cups sugar and four tea bags and let steep five minutes and squeeze out tea bags. Dip ribs into glaze and heat in oven. Brush with additional glaze until ribs are hot and sugar has caramelized. Finish under broiler and drizzle glaze over ribs when on plate. Serve glazed ribs over jicama salad.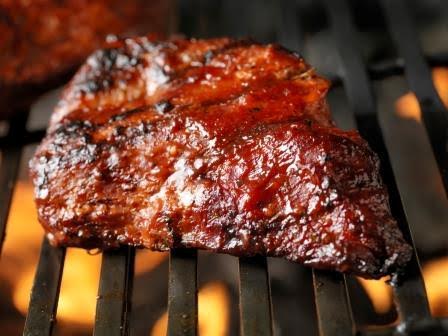 Ingredients
Beef brisket:
4 pounds beef brisket, whole, not trimmed
1 pound sweet onion, julienned
1 pound carrot, julienned
1/2 pound celery, chopped
4 cups water, or enough to cover brisket
1 tablespoon kosher salt
Barbecue sauce:
4 ounces vegetable oil
1 pound sweet onion, chopped
1 ounce peeled garlic, chopped
1/2 pound celery, chopped
16 ounces tomatoes, canned
1 cup brown sugar
1 cup white vinegar, or cider vinegar
1 tablespoon kosher salt
8 Bigelow Earl Grey Tea bags
Instructions
Combine onion, celery, carrot tea bags with water and bring to a simmer. Add brisket and let cook till fork tender, may be up to 8 hours. While brisket is cooking make barbecue sauce. In medium sauce pan heat oil and add onion and garlic and sweat. Add celery and sweat and then add tomatoes, sugar vinegar, salt and tea bags. Let simmer till all vegetables are very soft and remove tea bags. Puree till smooth and chill till ready to use. When brisket is tender remove from heat and allow to cool in braising liquid. When cool remove from liquid and heat on grill. When hot add barbecue sauce and finish heating in oven to prevent burning sauce. Slice about 1/4 inch and serve.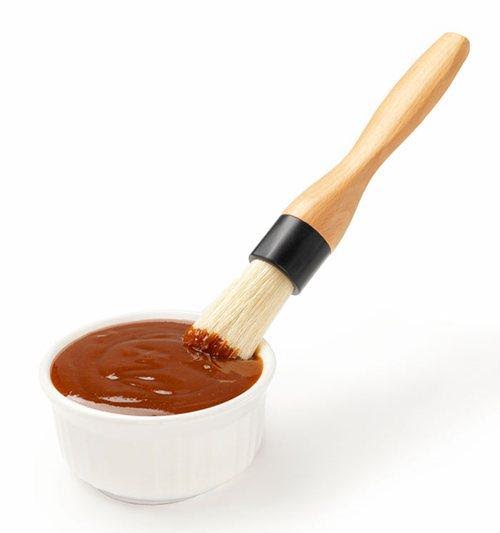 Ingredients
½ cup (125mL) hot water
¼ cup (60mL) brown sugar
1 small onion, diced
¼ cup (60mL) ketchup
2 tablespoons (30mL) mustard
Instructions
Pour boiling water over tea bags. Let steep for 5 minutes. Remove bags, squeezing them for excess tea. Add brown sugar until dissolved. Set aside. In a skillet, add tea, ketchup, mustard and onions. Mix well and simmer until onions are soft, about 10 minutes. This sauce can be used with steak, chicken and pork. It also can be used for baking beans.