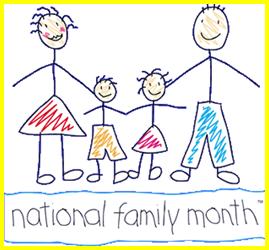 Courtesy of Familymonth.net.
"The family is the nucleus of civilization."
Family is the most precious and powerful force of human life. It is the safe harbor where support, comfort and unconditional love is given and received — the springboard from which children grow, learn and succeed. With this in mind, National Family Month® is celebrated annually from Mother's Day to Father's Day. Established by KidsPeace®, one of America's oldest and largest not-for-profit organizations serving children and families nationwide, National Family Month is all about giving kids peace by affirming the family. This year, the national celebration of the American family will focus on three themes: grandparents, foster families and crisis prevention. In recent years, the role of child caregiver has shifted dramatically from parents to grandparents, aunts, uncles and foster parents. These men and women are being honored for their contribution to building strong families, ensuring that children enjoy and flourish in a safe environment.
At Bigelow Tea, we revere family. Our company, founded over sixty years ago by Ruth Campbell Bigelow, is lovingly tended by generations of Bigelows. We embrace our employees and their families as part of the extended Bigelow family, and are deeply committed to strengthening family ties — by sharing traditional activities as simple as a return to the family picnic on a lovely Sunday afternoon!  We're also dedicated to that larger family — the community. Enthusiastic participants in our community, we organize events like the annual Bigelow Tea Community Challenge — which benefits many organizations, such as the Fairfield YMCA. The entire Bigelow team is also active in dynamic family-oriented programs like Habitat for Humanity. So please join us in commemorating the single most important unit — the family!