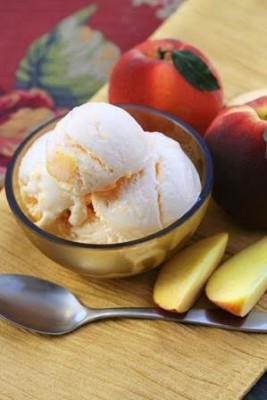 Who doesn't love ice cream? It's as American as apple pie and with July being National Ice Cream Month, what better way to celebrate than to make your own ice cream at home or add a special sauce to jazz it up. Bigelow Tea, a third generation family owned American business, has created several recipes to add delightfully unexpected flavor to one of this country's favorite desserts.
If you have an ice cream machine, Bigelow Tea has the perfect recipe for homemade peach ice cream, which gets a peach flavor boost from steeping Bigelow Green Tea with Peach bags in the heavy cream.
And the perfect topping for any flavor of ice cream? Chocolate sauce, of course. Why not try Bigelow Tea's recipe for a delicious chocolate sauce with just a hint of cinnamon, which comes from steeping Sweetheart Cinnamon Herbal Tea bags in evaporated milk before adding semi-sweet and milk chocolate chips. You can also use Bigelow Tea's Earl Grey, Earl Grey Green Tea, Mint Medley, Ginger Snappish or Cinnamon Stick Tea to add subtle, yet tantalizing flavor to classic chocolate sauce.
Make up an iced pitcher of your favorite Bigelow Tea to serve with ice cream and chocolate sauce, and you have the perfect ending to any summer meal. Enjoy!
(pictured above)
Ingredients
2 cups (500mL) heavy cream
1 cup (250mL) half-and-half
¾ cup (180mL) sugar
Dash of salt
½ teaspoon (2.5mL) vanilla extract
1 cup (250mL) diced fresh or canned peaches, drained
Instructions
Combine heavy cream and half-and-half in a medium saucepan and bring to a simmer over medium heat, being careful not to boil. Turn off the heat; add sugar and salt, stirring to dissolve. Add the vanilla and the tea bags and let the mixture cool to room temperature, occasionally stirring and gently pressing the tea bags to infuse cream with the tea flavor. When cool, cover tightly and place in the refrigerator overnight. Before freezing, pour the mixture through a sieve set over a large bowl. Press the tea bags to release flavor. Add the diced peaches and freeze in an ice cream maker according to the manufacturer's directions.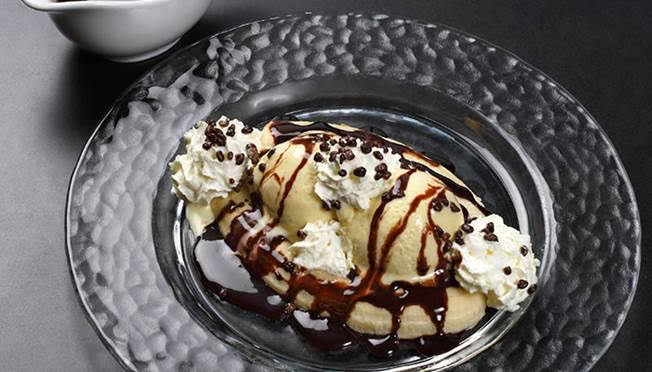 Ingredients
1 (12-ounce) can evaporated milk
10 bags Sweetheart Cinnamon Herbal Tea*
2 cups (12-ounces) semi-sweet chocolate chips
1 cup (6-ounces) milk chocolate chips
¼ teaspoon salt
Instructions
In 2-quart saucepan, over medium heat, bring evaporated milk to a simmer. Add 10 tea bags; steep 5 minutes. Remove bags from evaporated milk and squeeze to remove liquid; discard bags. Add remaining sauce ingredients to tea milk mixture. Stir until chocolate chips melt (2 to 3 minutes). If necessary, heat over low heat to help melt chocolate chips. To serve: place a scoop of ice cream in bowl. Top with Sweetheart Cinnamon chocolate sauce. Refrigerate remaining chocolate sauce. Re-heat refrigerated Sweetheart Cinnamon sauce over low heat until softened to desired consistency.