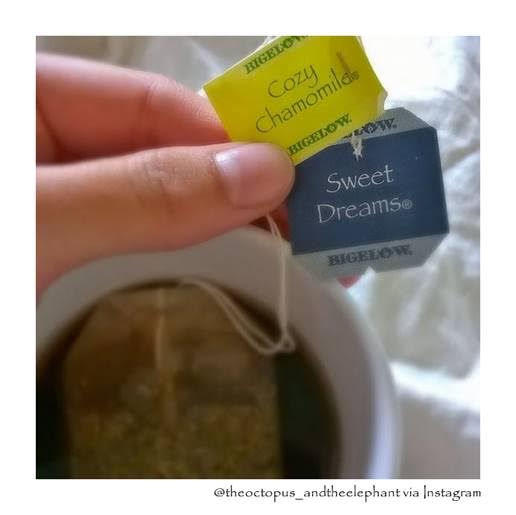 "I'm SO tired!" Let's get real – how many times (A week? A day? An hour?) do you find yourself sighing these words to whoever will listen? Well, Bigelow Tea hears ya loud and clear!
It's amazing how many waking hours are spent dreaming about getting more sleep! Whether it's work stress, crying babies, or too much distraction from Netflix, it seems there's always something getting in the way of a good night's rest. As we are nearing the close of National Sleep Awareness Week and coming into World Sleep Day next Friday, now is as good a time as any to start making some snooze-inducing changes to feel rested and raring to go instead of wanting to hide under the covers. These super slumber tips  will help you get in the right frame of mind for better dozing, starting tonight!
Say sayonara to screen time at bedtime.
Believe it or not, blue light from devices can mess up your melatonin levels causing insomnia. C'mon, you know you don't need to check Facebook from bed!
Use your bedroom for your bed only. 
Make sure your bedroom is a place without distractions from work, TV and pets (Sorry Fido and Fluffy!) so that the room is limited to the activity you really need to be engaging in. (Um, that would be sleeping!)
Chill out! 
Before bedtime, try a hot bath, some gentle stretching, or a cup of a relaxing tea such as Benefits Chamomile and Lavender Herbal Tea to set you up for sliding into sleep.
Stop using Saturday for sleep.
Don't let sleeping in take over the weekend- stick to a daily wake time and bedtime routine, and before you know it, you'll be regularly sleeping like a champ.
Cool it with the caffeine.
Sure it helps you get hyped up when you need it, but too late in the day and you'll be wired when all you want is to calm down!
Nix the nightcap.
Alcohol may initially make you feel relaxed, but it can actually keep your body from truly melting into a deep slumber. So say no to the Pinot once it's close to bedtime!
Sip for sweet snoozing.
Spend the evening sipping a soothing hot mug of Sweet Dreams® Herbal Tea or Cozy Chamomile® Herbal Tea, both of which are great for helping mind and body unwind after a crazy day.
Get some rest by listening to Arianna Huffington. 
The media bigwig shares her secrets for better sleep and greater success- and who doesn't want both of those things?
Pssst…willing to share your secrets to a good night's sleep with us insomniacs? We would love to hear how you get your 40 winks- tag #TeaProudly!