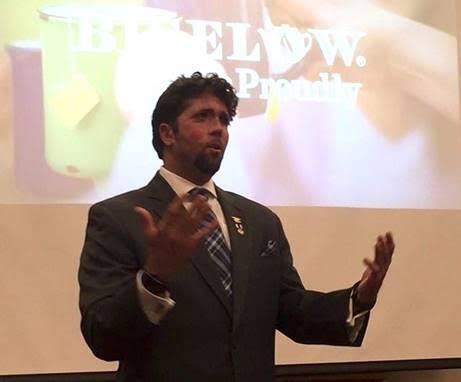 It's not every day we get to meet a hero. But a few weeks back, that's exactly what we did. Decorated former United States Navy SEAL Lieutenant Jason Redman spent a few awe inspiring hours at the Bigelow Tea headquarters in Fairfield, Connecticut, where he personally addressed Bigelow employees.   The visit was shared via live feed to our teams in Louisville, KY and Boise, ID. As founder and spokesperson of the Combat Wounded Coalition, a nonprofit organization that supports combat wounded warriors and families of the fallen, and author of the memoir The Trident: The Forging and Reforging of a Navy SEAL Officer, Jason spent some time talking about leadership, teamwork and overcoming adversity. It was an honor and privilege to hear him speak.
Jason served 21 years with the U.S. Navy — 11 years as an enlisted Navy SEAL and 10 years as a SEAL officer. In 2007, he was severely wounded in a firefight in Iraq after his team was ambushed. While recovering at Bethesda Naval Medical Center, Jason bravely faced his challenges by writing a bright orange sign to hang on his door, which became a statement and symbol for wounded warriors everywhere. It read: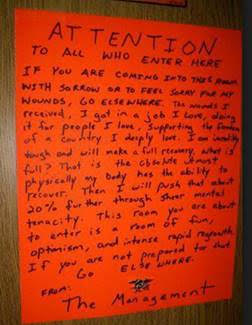 Attention to all who enter here. If you are coming into this room with sorrow or to feel sorry for my wounds, go elsewhere. The wounds I received I got in a job I love, doing it for people I love, supporting the freedom of a country I deeply love. I am incredibly tough and will make a full recovery. What is full? That is the absolute utmost physically my body has the ability to recover. Then I will push that about 20 percent further through sheer mental tenacity. This room you are about to enter is a room of fun, optimism, and intense rapid regrowth. If you are not prepared for that, go elsewhere.  
— The Management
The original sign on the door, signed by President George W. Bush, now hangs in the Wounded Ward at the National Naval Medical Center Bethesda as an inspiration to his fellow service men and women.
After 37 surgeries, Jason candidly shares his experiences and positive attitude to motivate others and to continue to raise awareness of the sacrifices of America's courageous military forces and their families. He was awarded the Bronze Star Medal with Valor, the Purple Heart, the Defense Meritorious Service Medal, two Combat Action Ribbons and the U.S. Army Ranger tab, along with numerous other personal and unit awards.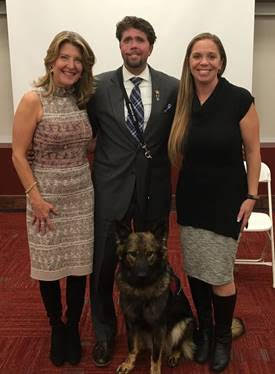 Just as Jason is committed to the U.S. military community, so are we. In 2009, we launched the "Tea for the Troops" program, which sends specially designed boxes of 100% American-grown tea from the Charleston Tea Plantation to U.S. military personnel overseas and in the States. To date, we have sent more than 5 million tea bags to service men and women. We also became an official sponsor of the USO in 2015. We deeply appreciate the sacrifices the members of our military—and their families—have made to keep our country free, and we will continue to support them, one tea bag at a time.
Thank you, Jason, for your service. You are an inspiration to us!
Top image: Jason Redman speaking to Bigelow Tea employees
Lower image (L-R): Cindi Bigelow, Jason Redman and his service dog, Kharma, and Jason's wife, Erica.