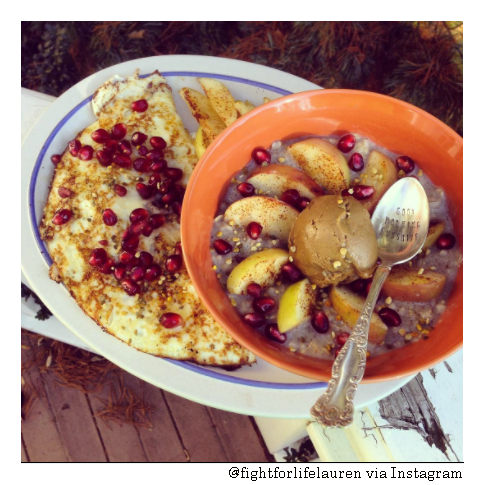 Oat-M-G, did someone say oatmeal?! January is actually Oatmeal Month, and  Bigelow Tea has some new ways to jazz up this breakfast fave! Here's an awesome idea from @fightforlifelauren (pictured above): Instead of using hot water, make your oatmeal with Bigelow Tea Apple Cider Herbal Tea. Then, add some toppings. Lauren went with cinnamon, apple slices (she microwaved hers with cinnamon), nut butter, pomegranate seeds, a drizzle of honey. Sounds delicious, right?
Another super yummy option is to prepare your oatmeal with Lemon Lift like @healthyliving.lc did. Then, add it to a bowl of Greek yogurt and top with fresh bananas, raspberries, flaxseed, granola, pumpkin butter, and any other toppings you might enjoy. Gosh, talk about reinventing a bowl of oatmeal—it's obviously all in the toppings these days, friends.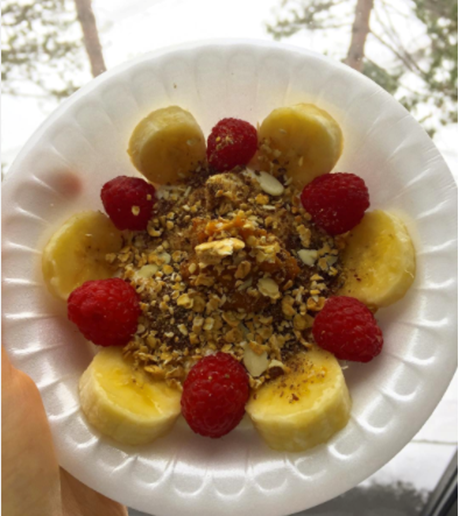 Don't have a lot of time to prep a bowl of oatmeal? Spend a weekend afternoon making a batch of muffins to grab and go on your busiest mornings. Here are two recipes to try. Mmmm…. You won't regret them!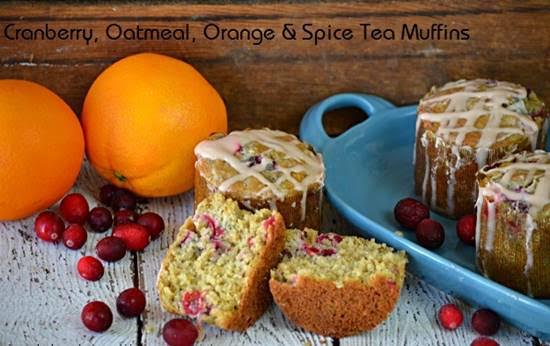 Ingredients
For the Muffins:
2 cups old fashioned oats
1/2 cup brewed Bigelow Orange and Spice Herbal Tea (two bags)
1 3/4 cups milk
zest from one orange
1 cup fresh or frozen cranberries, sliced
2/3 cup granulated sugar + 1 tablespoon, divided
2 cups all-purpose flour
4 teaspoons baking powder
1 teaspoon baking soda
1/4 teaspoon salt
2 large eggs, slightly beaten
1/2 cup vegetable oil
For the Glaze:
3 ounce cream cheese, softened
2 tablespoons butter, softened
1 teaspoon vanilla extract
1 1/4 cups confectioners' sugar
5 to 6 tablespoons brewed Bigelow Orange and Spice Herbal Tea (1 tea bag)
Instructions
For the Muffins:
Preheat oven to 375 degrees.
Line muffin pans with 24 cupcake liners OR 11 2 3/4-inch x 2-inch cupcake molds
In a medium bowl add the oats, brewed tea, milk and orange zest.
Stir to combine and set aside for 20 minutes.
Place sliced cranberries in a small bowl, sprinkle 1 tablespoon sugar over cranberries and set aside.
In a large bowl whisk together the sugar, flour, baking powder, baking soda and salt.
Add the eggs and oil to the oatmeal mixture; stir to combine.
Add the oatmeal mixture to the flour mixture; stir until combined.
Fold in cranberries.
Scoop into prepared muffin pans.
TIP: For regular size muffins use an ice cream scoop. For the larger size cupcake molds use 2 ice cream scoops.
Bake regular size 20 to 25 minutes AND large 30 to 35 minutes.
Cool on rack.
For the Glaze:
Cream together the cream cheese and butter.
Mix in vanilla.
Blend in the sugar.
Add the tea 1 tablespoon at a time until it reaches a drizzle consistency.
Use a large spoon and drizzle over muffins.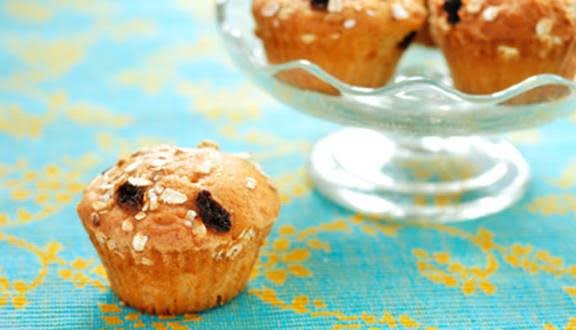 Ingredients
Tea Concentrate:
Muffins:
⅔ cup firmly packed dark brown sugar
½ cup vegetable oil
2 tablespoons molasses
2 eggs
½ cup tea concentrate
1 tablespoon freshly grated ginger
1 ½ cups gluten-free flour
½ cup old-fashioned rolled oats*
1 tablespoon baking powder
1 teaspoon baking soda
¾ teaspoon Xanthan Gum**
½ teaspoon salt
½ cup dried currants
2 tablespoons sugar
*Use Gluten Free certified Oats to be totally Gluten Free when making this recipe
Instructions
Place tea bags in a 1-cup glass measure. Add water to equal 1 cup. Steep tea for 10 minutes. Squeeze all liquid from tea bags into cup. Discard tea bags. Heat oven to 350 F. Spray 12-cup muffin tins with baking spray; set aside. In large mixing bowl add brown sugar, vegetable oil, molasses, and eggs. Mix at high speed, scraping bowl often, until creamy (1 to 2 minutes). Add tea concentrate and ginger. Continue mixing at medium speed, scraping bowl often, until well mixed (1 minute). In medium bowl stir together gluten-free flour, rolled oats, baking powder, baking soda, Xanthan Gum, and salt. Add to tea mixture. Mix just until moistened. Stir in currants. Fill muffin tins about ⅔ full. Sprinkle top of each muffin with about ½ teaspoon sugar. Bake until very light brown (14 to 18 minutes) or until wooden pick inserted in center of muffin comes out clean. Remove from oven. Cool.
If you have your own amazing recipes or just want to share your love of a hot mug of tea, don't forget to tag either with #TeaProudly so we can all get in on the fun!!