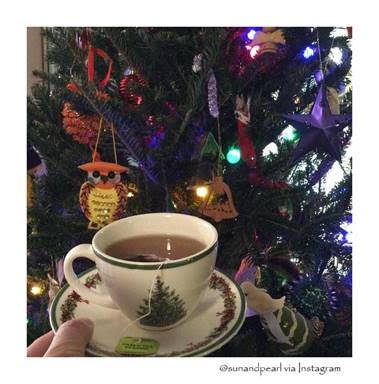 The holiday season is a wonderful time of year to enjoy good food, fun with friends, plenty of love, laughter and……you guessed it, tea!  Speaking of fun……these six heavenly drink recipes made with Bigelow Tea will amaze and delight your holiday guests. So jump right in and start celebrating six sensational suggestions for holiday entertaining that are sure to be nothing short of awesome!
1. Ugly Holiday Sweater Party
Who doesn't love a good ugly sweater party, right?! This traditional spiced treat will warm your guests when (baby) it's cold outside. Laugh it up and don't forget to have guests vote for their favorite ugly sweater at the end of the night!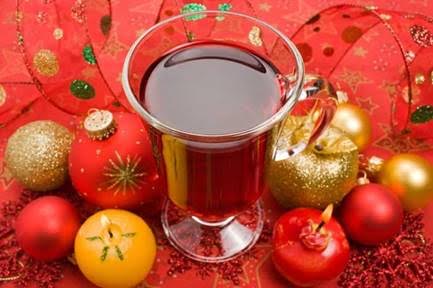 Warm your guests this winter with this traditional treat – wine spiced with Bigelow's Orange & Spice tea.
Makes 8 4-oz drinks
Ingredients
4 cups red table wine
4 Bigelow Orange & Spice® Herbal Tea Bags
½ cup light brown sugar
1 bay leaf
Instructions
Try a Bigelow "Naughteas" Cocktail – a drink made using Bigelow Orange and Spice herbal tea and alcohol. Place red wine in a medium saucepan and heat to simmer. (DO NOT BOIL.) Add tea bags and let sit over low heat for 30 minutes. Squeeze and remove tea bags. Add sugar and bay leaf, stirring until sugar is dissolved. Let wine sit over low heat for another 10 minutes, then remove bay leaf. Reheat and serve as needed.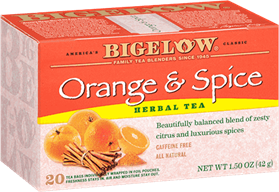 2. Cookie Exchange
Cookies, cookies, everywhere—can you say yum?! Make your holiday cookie exchange super special with this classic hot drink that is sure to complement any scrumptious holiday delight that comes your way!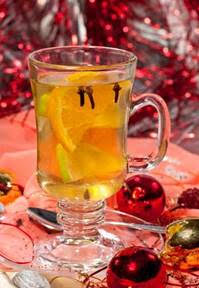 A popular classic hot drink using Bigelow's Eggnogg'n tea. It's the ultimate hot drink for winter.
Serves 6
Ingredients
6 tea bags Bigelow Eggnogg'n Tea*
6 cups (48-ounces) hot water
Spiced Butter:
¾ cup light brown sugar
½ cup butter, softened
1 teaspoon pumpkin pie spice
½ teaspoon vanilla extract
⅛ teaspoon salt
8 to 12-ounces (1 to 1 ½ cups) clear rum
Whipped cream, optional
*Variations: Try using Bigelow Apple Cider Herbal Tea or Bigelow Pumpkin Spice Tea
Instructions 
In large glass bowl, place tea bags; add hot water. Brew for 4 minutes. Squeeze tea from bags then discard bags. Meanwhile, in small mixer bowl add all Spiced Butter ingredients; beat at medium high speed, scraping bowl occasionally, until light in color (1 minute). In 6 mugs or heat-proof glasses, place 2 tablespoons spiced butter, 2-ounces rum, and 6 ounces hot brewed tea. Mix until Spiced Butter melts. Garnish with whipped cream, if desired.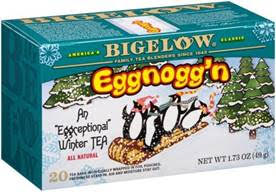 3. Holiday Decorating & Tree-Trimming Party 
Get the bells, bows and boughs out and celebrate with this delicious nonalcoholic party punch the kids will love! For a grown-up punch, kick it up a notch by adding champagne instead of sparkling water.

This delicious and refreshing party punch is made with Bigelow Constant Comment tea, adding a bit of spice to this beverage.
Makes 25 4-oz. Drinks
Ingredients
4 cups water
6 Bigelow "Constant Comment" Tea Bags
2 quarts Sparkling Water**
1 12-oz. can frozen lemonade concentrate
1 12-oz. can frozen orange juice concentrate
1 8-oz. can crushed pineapple with juice
Garnish with Orange Slices
Instructions
In a saucepan, bring water to boil, add tea bags, cover and steep for 5 minutes. Remove tea bags. Allow tea to cool; then chill. Just before serving time, combine tea, sparkling water or Champagne, juice concentrates, and pineapple in a large punch bowl. Garnish with Orange Slices ** Celebrating a special event? Spark it up by substituting 1-½ to 2 bottles of Champagne for the Sparkling Water
4. Holiday Brunch 
It's not breakfast, it's not lunch, but whatever you call it, brunch is the bomb! Make your holiday brunch extraordinary with this festive and refreshing nonalcoholic raspberry punch!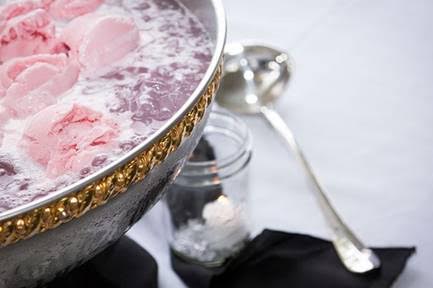 A non-alcoholic drink your holiday guests will love and Bigelow helped you make it with Red Raspberry Herbal tea.
Makes 18 24-oz drinks
Ingredients
2 cups Cranberry Juice or Cran-Raspberry Juice
Juice of ½ lime
2 cups ginger ale or lemon lime soda
Sherbet (Raspberry or Lime)
1 quart (4 cups)
Bigelow Red Raspberry Herbal Tea—chilled
Instructions
Mix together all ingredients (except soda and sherbet) in punch bowl. Just before serving, add soda slowly to punch bowl and stir gently. Add ice and garnish with fresh lime slices and sherbet. **Either Bigelow Red Raspberry Herbal Iced Tea or Bigelow Red Raspberry Herbal hot tea bags can be used in the preparation of this recipe. For iced tea, prepare according to directions on the box. For the hot tea bags prepare according to package directions to make iced tea using 6-8 tea bags per 32 ounces boiling water. Prepare ahead of time and chill.
Optional Garnish: Make a frozen decorative ring – You'll need: 1 round fluted pan (Bundt, tube pan, gelatin mold) Fresh Fruit Water Fill bottom ⅓ of pan with water and freeze until firm. Add fresh or thawed raspberries around pan, alternating with lime slices*; freeze an additional 15-30 minutes or until semi-firm; add remaining water and freeze until set. To remove ring from container, gently dip in hot water to release edges. Remove and place ring in punch bowl. *Can use orange, lemon or any fruit you want to accentuate.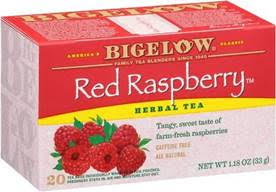 5. Feast of the Seven Fishes 
This longstanding Italian holiday tradition has been embraced and celebrated by people around the globe. Skip the espresso and kick back with this hot holiday tea recipe to top off your holiday feast!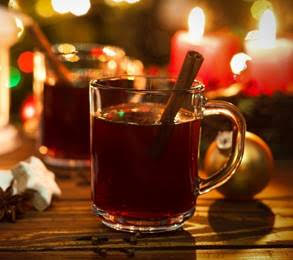 Instead of hot chocolate or coffee, why not a cup of tea using Bigelow's Apple Cider Herbal tea along with a little kick.
Serves 4
Ingredients
1 ⅓ (340mL) water
8 Bigelow® Apple Cider Herbal Tea Bags
1 ⅓ cups (340mL) cranberry juice
1 cup (250mL) burgundy wine
Cinnamon sticks as a garnish
Instructions
In a medium saucepan, bring water to boil, add tea, cover and let steep for 5 minutes. Remove teabags. Stir in cranberry juice and wine. Return to medium heat. Heat thoroughly. Serve in a large pottery mug. Garnish each cup with a cinnamon stick.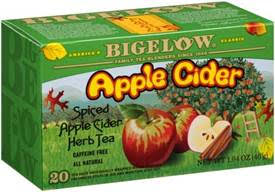 6. New Year's Eve  
HAPPY NEW YEAR! Go ahead and put off those pesky resolutions–ring in the New Year with this elegant and vibrant red champagne punch!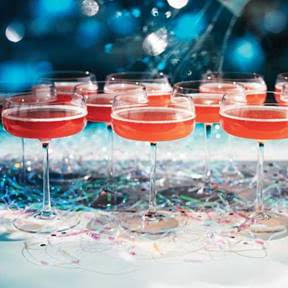 The bright red color of this sparkling punch is perfect for the holidays. The addition of fresh pomegranate seeds makes it extra-festive!
Serves 6-8
Ingredients
1 ¼ cups boiling water
6 Bigelow® Pomegranate Pizzazz Herbal Tea Bags*
750-ml bottle champagne or sparkling wine, chilled
2 tablespoons orange juice
¼ cup fresh pomegranate seeds (optional)
*Variation – Red Raspberry Champagne Punch: substitute 6 Bigelow® Red Raspberry Herbal tea bags for the Bigelow Pomegranate Pizzazz and substitute ½ cup fresh raspberries for the pomegranate seeds.
Instructions
The bright red color of this sparkling punch is perfect for the holidays. The addition of fresh pomegranate seeds makes it extra-festive! Combine water and tea bags and allow to steep for 5 minutes. Thoroughly squeeze tea bags and remove. Add orange juice. To chill, place tea concentrate in the freezer for 30-45 minutes. Pour champagne into a large pitcher. Add tea mixture and pomegranate seeds to pitcher and stir. Serve immediately.