Over the past several years, organic products have surged in popularity. Bigelow Tea has recognized this trend and has created a line of Organic Teas in response to the growing demand. With over 60 years in the tea business, consumers can rest assured that the new organic line will exceed expectations as it has with the 80 plus varieties that Bigelow Tea produces today.
"We put a lot of time and effort into developing exceptional flavors, so our new organics are easy for tea lovers to enjoy," says Cindi Bigelow, President. "This new line is a natural extension of the traditional purity of Bigelow Tea where every cup delivers goodness."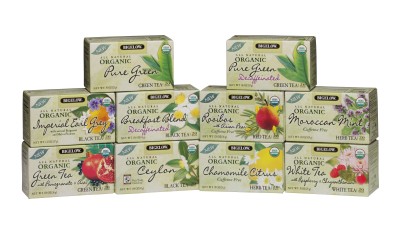 The full line offers organic twists on the old classics and introduces exciting new blends as well! For a more traditional cup try the Organic Imperial Earl Grey, Organic Pure Green, or the Decaf Organic Breakfast Blend! Looking for something a little different? Try the Organic Rooibos with Asian Pear, for a the nutty taste of Rooibos combined with the sweet taste of pear! Or, the Organic White Tea with Raspberry and Chrysanthemum for a unique flavor sensation!