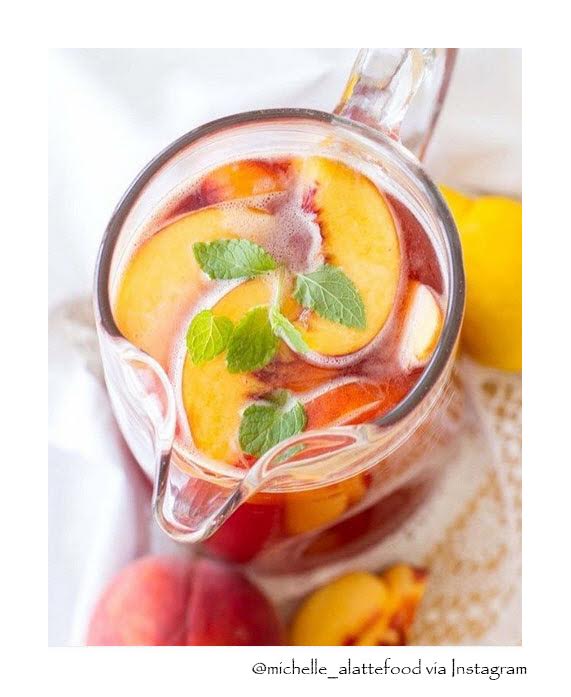 It's summer, summer, summertime, and you know what that means! Fresh, yummy, DELICIOUS peaches! And if you like sun-ripened peaches, you'll looove Bigelow Tea's peach flavors. Why? Well, if the taste of perfection isn't enough, here are five facts that prove peaches are awesome. Go ahead, brew a pot (or a pitcher) of Perfect Peach® Herbal Tea, Green Tea with Peach, Dandelion Peach Rooibos Green Tea, and Plantation Peach® Pyramid Bags, and read on.
Oh, that's old history. Peaches are so rad, they've been around for longer than all of us. Science tells us that peaches have been enjoyed by people for at least 7,500 years, according to well-preserved ancient peach pits found in China. Considered to be the favorite fruit of emperors, peaches were written about in Chinese literature dating back to the 10th century. By way of Persia, Greece and the Roman Empire, the peach was brought to the Americas by Spanish explorers in the 16th century.
Stop and smell the roses… errr… peaches. Believe it or not, peaches are a member of the rose family! Who knew?! Peaches are also related to plums, apricots and almonds (distant cousins, maybe??).
So good, there's even a month for them. Today, peaches are a staple in the summer fruit basket—August is even recognized as National Peach Month! Celebrate all month long with Bigelow Tea's blends bursting with the flavor of peach for you to enjoy.
Winner of the "goes with everything" superlative award. Seriously. Peaches – and peach-flavored teas – go well with everything. Sweet, savory or spicy? No problem. Don't believe it? Try one of these fab recipes for Peach No-Bake Cheesecake, Perfect Peach Mustard Dipping Sauce, Perfectly Peachy Pineapple Smoothie, or Grilled Green Tea Chicken and Peaches.
They're so vain, they probably think this blog is about them. For real, the color of peach tea alone is worth a post on Instagram. Have you seen how pretty it is?? Steep a bag until you get that perfectly peach hue, slice up a peach and get that phone ready.
Yup, so there you have it. You're craving a glass now, aren't ya? Go get a box (or two, or three) and tag #TeaProudly with your best photos!