Have you ever thought about how a cup of black tea totally comes alive with a well-paired dish? Think about it…when you combine certain flavors, those on the plate can definitely enhance what's in your cup and suddenly, your tea really pops. Maybe it's more robust. Or sweeter. Possibly more smooth. Each food and tea pairing is absolutely unique, and at Bigelow Tea, we love when that happens! It's all about exploring and savoring a variety of tastes, right? Like, a cup of black tea paired with Pomegranate Pepper Steaks. It's nothing short of amazing. Or, if you're looking for a bit of a kick, try coupling a cup of Darjeeling with a Tea-Braised Leg of Lamb with Pear, Jalapeno and Tea-Infused Chutney. And don't forget dessert! (Psh… who could forget dessert?!) You know how you love a drizzle of honey in your tea? Well, pair a cup of black tea with this recipe for Spicy Chai-Poached Pears and you'll make your heart happy. Is your mouth watering yet? Yeah, that's what we thought. Don't worry, the recipes are here to stay.
If you're still looking for more tea and food pairings, this chart of suggestions from the Tea Association of Canada might help guide you on your next flavor adventure. Find one that you like? Join the conversation and share it with other tea lovers—tag your discoveries with #TeaProudly. Show us whatcha got!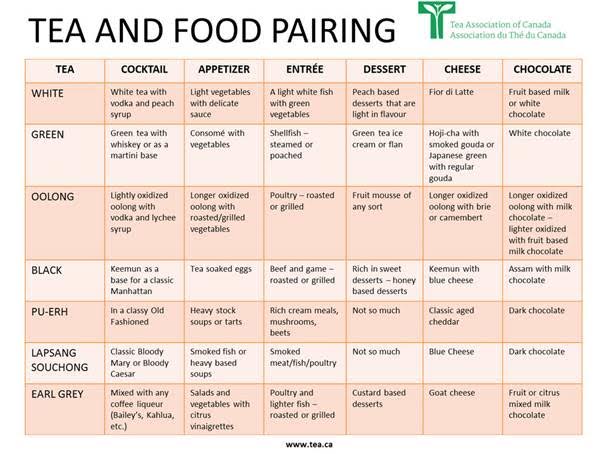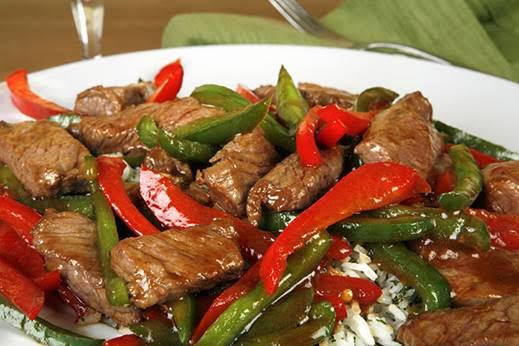 Ingredients
1 cup (250mL) boiling water
12 Bigelow® Pomegranate Pizzazz Herbal Tea Bags
3 red bell peppers, seeded and sliced in strips
2 tablespoons (30mL) olive oil
4 – 6oz. (168g) round steak, tenderized
Salt to taste
Dash of pepper
Pomegranate seeds for garnish (optional)
Instructions
Add tea bags to boiling water. Let steep for 5 minutes. Remove tea bags, squeezing out liquid. Reserve. Add olive oil to a heavy skillet, saute peppers until soft. Set aside. Add steak to peppers and continue sauteing for about 5 minutes on each side or until done to your taste. Place steaks on a warm plate, top with peppers. Keep warm. Pour tea into hot skillet, add salt and pepper, stirring and scrapping brown pits from pan. Boil to reduce liquid to ½ cup (125mL). Pour sauce over steak and peppers. Serve with hot rice. Garnish with pomegranate seeds is desired. Great with Bigelow Pomegranate Risotto.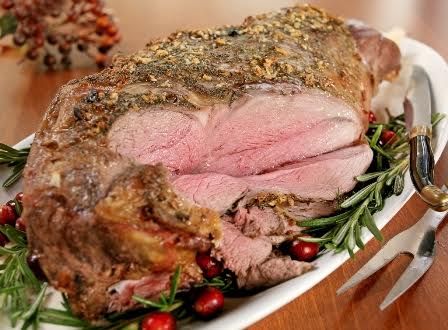 Ingredients
4 pounds leg of lamb, boneless, ready to roast kosher salt and Black Pepper
clarified butter, or any high heat fat (enough to coate bottom of pan)
2 sweet onions, chopped
4 carrots, chopped
4 celery ribs, chopped
6 garlic cloves, chopped
32 ounces chicken stock
8  Bigelow Lemon Lift Tea bags
8  Bigelow Plantation Mint Tea bags
Chutney:
2 pounds pear, diced
1 cup jalapeno, diced
2 cups sweet onion, diced
1 cup white vinegar
2 Bigelow Mint Medley Herbal Tea bags
1 tablespoon kosher salt
1 cup agave nectar, or sugar
Instructions
Pre-heat oven to 200 degrees.
Heat braising pan and add enough fat to cover bottom. Heat stock to a boil and add tea bags and let steep while lamb is browning. Dry lamb with paper towels and season with salt and pepper and immediately sear on all sides in braising pan. Remove from pan and sweet onion, garlic. Then add celery and carrot and sweat till they begin to become tender. Return lamb back to pan and add stock. Stock should slightly cover or come up at least three quarters of the lamb leg. Place in low 200 degree oven for approximately four hours or until fork tender. Remove from braising liquid and place braiser on stove with liquid and reduce to about 1 cup and strain. Season to taste and serve with lamb.
While lamb is braising prepare chutney. Heat vinegar to boil and add tea bags, let steep five minutes. Combine all diced ingredients in a pot and cover with steeped vinegar and tea bags and agave nectar (or sugar). Let cook till liquid has reduced and is syrupy and pears are tender. Chill and serve with lamb.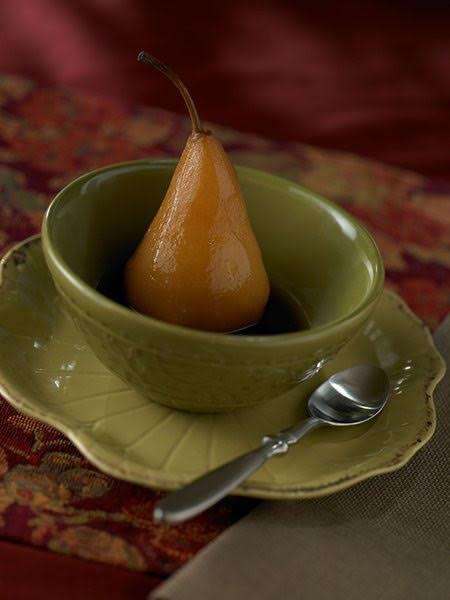 Ingredients
12 Bigelow® Spiced Chai Tea Bags
8 cups (2L) boiling water
2 cups (500mL) sugar
4 pears, peeled and cored
1 cup (250mL) mascarpone cheese
1 teaspoon (5mL) vanilla extract
½ cup heavy cream
¼ cup honey
Fresh mint leaves for garnish
Zest of orange
Instructions
Over medium heat, add boiling water to large saucepan. Add Bigelow® Spiced Chai tea bags and steep for 5 minutes. Add sugar, bring mixture to under a boil, once sugar has dissolved, add pears. Reduce to a simmer and poach pears for 15-20 minutes until soft. Reserve liquid and cool to room temperature. Mix cheese, vanilla, heavy cream and honey together. Thin mixture with 3 tablespoons of the reserved liquid. Place 1 cup of the reserved liquid and orange zest in a heavy saucepan and bring to a boil. Reduce liquid to ⅔ of a cup. To serve place 2 tablespoons liquid mixture on each plate, place a pear on top and drizzle with cheese sauce. Garnish with mint leaves.