The 2008 harvest at Bigelow's Charleston Tea Plantation was one for the books, including the introduction of five brand new American Classic Tea varieties. As the only location in North America where tea is grown, the Charleston Plantation is located on Wadmalaw Island, just south of Charleston, South Carolina, and it holds a wealth of interest for any tea lover. The singular task of growing tea in America is just another step in the appeal of Bigelow and Bill Hall — our partner and world renowned third generation tea taster.
The number one question from public tours of the 127-acre Charleston Plantation site has always been: "Do you make green tea?" Bigelow Tea and Bill Hall were able to answer that question definitively in the spring of 2008, capitalizing on those unique conditions there that are amenable to growing tea. The introduction of the new American Classic Tea Island Green was a hit; after several growing seasons, Bill had found the green tea recipe that would pass his critical standards of quality at this one of a kind Tea Plantation.
The wait was finally over and the American Classic Green Tea went on sale in the plantation gift shop in July 2008 to incredible demand. It quickly became the #1 seller in the shop. Now we are able to offer this popular tea directly on the web! Also new in 2008 were four additional American Classic Tea Pyramid tea bag items. The large cut leaf teas, in a pyramid tea bag create a whole new experience for enjoying fresh tea from the Charleston Tea Plantation. American Classic Tea, Charleston Breakfast, Governor Gray, Plantation Peach and Rockville Raspberry pyramid tea bags are all for sale. See the new Buy 5 boxes, Get 1 Free web offer at the bottom of the page (Call 1-843-559-0383 to place your order).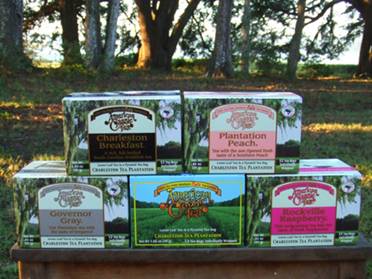 New American Teas: Charleston Breakfast, Plantation Peach, Governor Grey and Rockville Raspberry