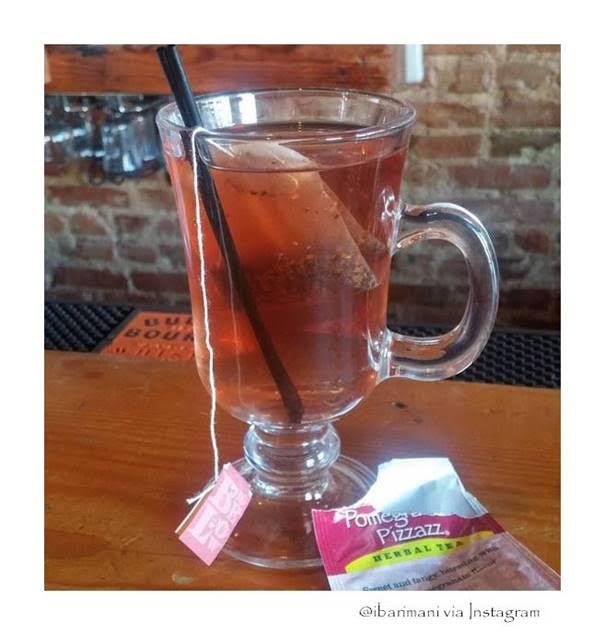 It's exciting. It's potent. It's pomegranate. Ever since this "wonder fruit" found its place in Bigelow Tea's black, green and herbal teas, tea lovers haven't looked back. The flavor is unmistakably rich and robust, and hey, a cup of pomegranate tea has the perfect rosy hue – perfect for an Instagram filter, right?! As if you needed another reason to love it, we'll give you three.
There's a whole month for celebrating pomegranates. Every November, pomegranates are in the spotlight. Why not use this time as an opportunity to try a new pomegranate flavor or recipe? Love a good twist on a classic? Try a tangy spin on a traditional Bigelow Tea favorite: Green Tea with Pomegranate (which also comes in an organic version, steep by Bigelow). This beautiful cup of tea offers a touch of sweetness and a hint of tartness, and packs a punch with the power of pomegranate which is the perfect way, we think, to celebrate #NationalPomegranateMonth!  And don't forget to try Pomegranate Black Tea too!
It's a pretty neat and exotic fruit. (And it's awesome to be a little different, right?) So, what is a pomegranate, anyway? A pomegranate is a round fruit with a thick, reddish skin that—when cut open—reveals ruby-red seeds called arils. High in antioxidants, potassium, vitamin C, and a great source of fiber, pomegranates are often used in cooking, juice blends, cocktails and, of course, tea!
Pomegranates have quite the history. Pomegranates are rooted in history, and have been symbols of abundance, prosperity, and fertility for thousands of years. According to a Greek myth, the goddess Persephone was forced to spend every winter in the underworld because she had eaten pomegranate seeds there (worth it). And, of course, today, back in the real world, it can bring a wealth of flavor and health benefits to your cup of tea.
So, there you have it. More than enough reasons to add pomegranate to your life – and to your tea cup. Have a favorite flavor? Tag #TeaProudly to show it off!