"One cannot think well, love well, sleep well, if one has not dined well."
The simpler days of the 1950's have come and gone.  We now live in a highly complex society, with double income parents and children who actively participate in not one or two, but a plethora of afterschool activities!  So, more than ever before, it's really important for families to stay connected.  And what better way to do this than to go back to basics – sharing a family meal!  October is "National Eat Better, Eat Together Month", with the purpose to encourage families to prepare and share nutritional meals together, engage in open conversation and, in essence, just chill with each other!  Recounting the day's events, funny stories and sharing laughs at the dinner table – this is what family memories are made of.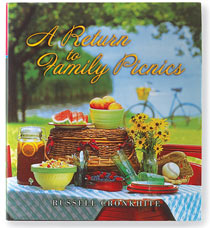 Bigelow Tea was founded on family values and continues to revere the concept of family – both at home, in the workplace and in the community at large. We have a fabulous collection of recipes to share with you and your loved ones for Eat Better, Eat Together Month, like the scrumptious Pumpkin Spice™ Waffles with Walnuts, great for a Sunday brunch. You can also check out the 120+ recipes in A Return to the Family Picnic found on our website (www.bigelowtea.com).  Remember, sharing nutritious meals as a family not only promotes good physical health, it also helps to keep families in touch with each other, as it should.  At the end of the day, it's all about the love!
Pumpkin Spice™ Waffles with Walnuts
1 ½ cups hot water
8 Bigelow® Pumpkin Spice TM Tea Bags
1 ¾ cups all-purpose flour
1 tablespoon baking powder
1 tablespoon sugar
1 teaspoon cinnamon
½ teaspoon salt
2 eggs, lightly beaten
2 tablespoons vegetable or canola oil, plus more for brushing
½ cup walnuts, roughly chopped (optional)
Sprinkle with cinnamon and chopped walnuts for additional flavor.
(Makes 6 large round waffles)
Steep tea bags in hot water for 3-5 minutes.
Remove bags, being sure to squeeze thoroughly. Set tea aside to cool.
In a large bowl, whisk together flour, baking powder, sugar, cinnamon and salt.
Add cooled tea, beaten eggs, and oil. Stir to combine. Gently fold in the walnuts (if desired).
Preheat the waffle maker. When hot, lightly brush the surfaces with oil, to prevent sticking.
Place about 2/3 cup of batter onto the hot waffle maker.
Close top and cook for approximately 2 minutes or until waffle is cooked through and surfaces are crisp.
Remove to a platter.
Repeat with remaining batter.
Serve warm with butter and maple syrup.