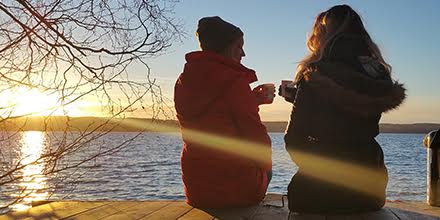 Did anyone ever say to you, "If you can't say anything nice, don't say anything at all?" Well, they're onto something. Being kind and nice and good is, well, pretty incredible. And on Random Acts of Kindness Day, Bigelow Tea has a few suggestions on how to bring a little good into the lives of others. First, though, why is kindness so important? Well, let's just say it's because being nice is, in the words of Bigelow Tea president and CEO Cindi Bigelow, an endangered virtue. It's a shame, too, because there's a lot of really cool research out there that suggests kindness is good for you. See for yourself!
Performing random acts of kindness may be the secret to alleviating social anxiety, according to research. Studies have also shown that being nice makes us happier, less stressed and may even help us live longer. Oh, and don't forget the whole altruism aspect… When you're nice to someone, you just feel good. You have a bigger smile and an even bigger heart.
Research also suggests that being nice in the workplace is good for both individual workers and for businesses as a whole. Harvard Business School's Amy Cuddy and her research partners found that leaders who project warmth and kindness are more effective than those who lead with their toughness and skill. Why? Because employees feel greater trust with a leader who is kind. Plus, those who are compassionate and more in tune with other people's emotions may be more successful at work.
Being nice may make you more attractive. (!) According to some rather encouraging research, being a good person could actually make people perceive you as more attractive. Thumbs up to that!
We think Cindi's words put it best: "You see, in my mind, it's of incredible importance, even though, I will admit, 'niceness' isn't on any curriculum at any liberal arts college I've visited. Furthermore, 'niceness' isn't part of any professional performance evaluation in Corporate America, probably because we sometimes operate under the misguided notion that nice guys, and girls, finish last.  I'm here to dispel that notion. I look for 'nice.' I need to see 'nice,' not only in my kids, but also in my employees — all of them. "
So, do something nice for someone today. Ask someone to sit down over a cup of tea to talk; you'd be surprised how many people would appreciate the outlet. Or simply handing off a cup of tea to someone can help relieve stress or give them an excuse to relax for a moment. We're not saying tea is the only way to be kind, but it's an amazing jumping-off point, so why not start there?
How will you show kindness today? Join the conversation by tagging #TeaProudly on social media. Be kind, be good, be nice… after all, we're all in this together, right?