Cooking with Bigelow Tea is one of the most interesting (and tastiest!) ways to enjoy the range of flavors and aromas associated with our teas.
All year long, we're celebrating the 65th anniversary of Ruth Campbell Bigelow's creation of Constant Comment. To help mark this exceptional event, we're highlighting some of our favorite Constant Comment recipes.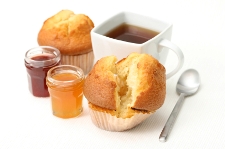 Constant Comment Muffins
You've already seen the recipes for Constant Comment Glazed Chicken and Constant Comment Spice Cake here on the Bigelow Tea Blog.
Now here's a recipe to start your day on the right foot: our super easy and delicious Constant Comment Muffin recipe…guaranteed to make your house smell incredible! Serve these up alongside a cup of Constant Comment tea and your important morning time will be off to a sweet start. Enjoy!
Ingredients:
1-1/4 cups milk

4 Bigelow Constant Comment Tea Bags

2-1/2 cups all-purpose flour

1/3 cup sugar

1-1/2 tablespoons baking powder

3⁄4 cup butter or margarine, cold (1-1/2 sticks)
Yield: Makes 12 medium muffins.
Instructions:
Preheat oven to 400° F. Grease muffin cups or use muffin liners.

Combine milk and tea bags in a small saucepan. Heat over medium/low heat until bubbles form around the edge, stirring occasionally. (DO NOT BOIL.) Remove from heat and let cool (15-20 minutes); remove tea bags, squeezing out liquid. Set aside.

In large bowl, combine flour, sugar and baking powder. Cut in butter or margarine with a pastry blender until mixture resembles coarse crumbs. Stir in the tea-infused milk just until flour is moistened. Do not over mix.

Spoon mixture into muffin cups. Bake 20 minutes or until golden brown. Remove from pan and cool on a wire rack.

Serve with jelly or jam.