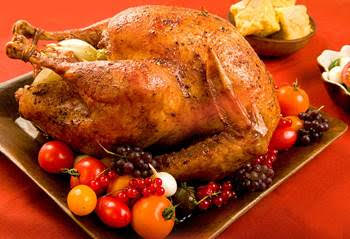 Thanksgiving is approaching, so let's talk turkey (or chicken if you prefer)! If you're tired of the same old turkey dinner, you'll be happy to know that Bigelow Tea has developed a succulent recipe for Roasted Turkey with "Constant Comment"® Glaze. Brush the turkey with the glaze—made with Bigelow Tea's first tea. To round out the meal, we're also including recipes for a Cinnamon and "Constant Comment"® Cranberry Sauce (created by tea fan Daniel J. Lestrud,) and dessert, Pumpkin "Constant Comment"® Cupcakes (created by Kristal Robishaw, 2011 Recipe Contest winner)—all made using Bigelow Tea's most famous blend.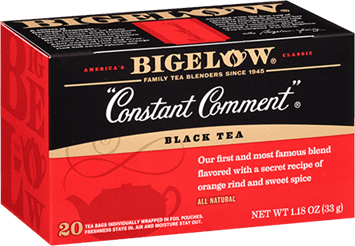 Roasted Turkey with Constant Comment® Glaze
Ingredients
Glaze:
12 Bigelow® Constant Comment® Tea Bags*
1 cup (250mL) boiling water
⅔ cup (160mL) brown sugar
2 tablespoons (30mL) butter
½ cup (125mL) cranberry juice
Turkey and Gravy:
1 10-15 pound (5-7.5g) turkey (thawed if previously frozen)
1 lemon, cut into four pieces
1 onion, peeled and cut into four pieces
1 cup (250mL) chicken stock
2 tablespoons (30mL) cornstarch
Salt and pepper to taste
*Variations: Try using Bigelow Orange and Spice Herbal Tea 
Instructions
Preheat the oven to 350º. Steep tea bags in 1 cup boiling water for 5 minutes. Squeeze excess liquid out of tea bags and discard. Reserve tea. Meanwhile, prepare a glaze by heating butter, brown sugar and cranberry juice into a saucepan over medium heat until butter is melted and sugar is dissolved. Add tea and reduce mixture by cooking over medium high heat for 15 minutes. Set aside. To prepare turkey, remove giblets and neck from turkey, rinse inside and out and pat dry. Place a cut lemon and a cut-up onion into the cavity and truss the turkey. Place in an open roasting pan breast side up. Brush skin with glaze. Bake turkey in preheated oven. Keep glaze warm on stove and continue basting with glaze every 20 minutes. Remove turkey from oven and let stand for at least 20 minutes before carving. Discard any unused glaze. To make gravy, dissolve cornstarch in chicken stock. Place roasting pan on burner over medium heat, scraping browned bits. Add stock whisking constantly until thickened; about 1 minute. Strain gravy and serve with turkey. As a nice alternative, use a 9-11 pound oven stuffer roaster chicken in place of the turkey. For best results, tie the chicken with string at the legs and the wings. For the glaze reduce the number of tea bags from 12 to 8.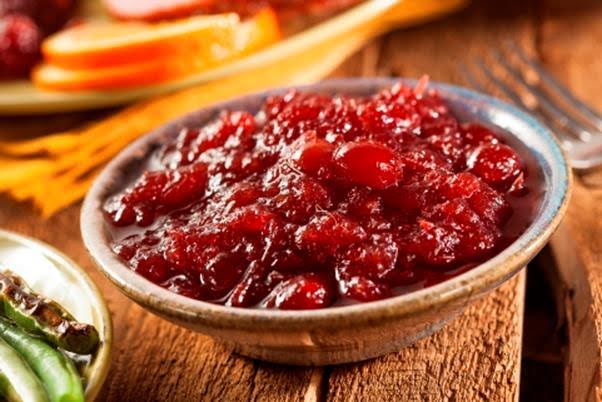 Cinnamon and Constant Comment ® Cranberry Sauce
Ingredients
1 cup sugar
1 cup water
4 tea bags of Bigelow Constant Comment Tea
4 tea bags of Bigelow Cinnamon Stick Tea
4 cups cranberries
Instructions
Combine sugar and water.  Heat till it begins to boil and add tea bags. Add Cranberries and let boil till berries begin to burst and sauce begins to thicken.  Let cook and remove tea bags and squeeze out liquid. Pour into container and chill.
Pumpkin "Constant Comment"® Cupcakes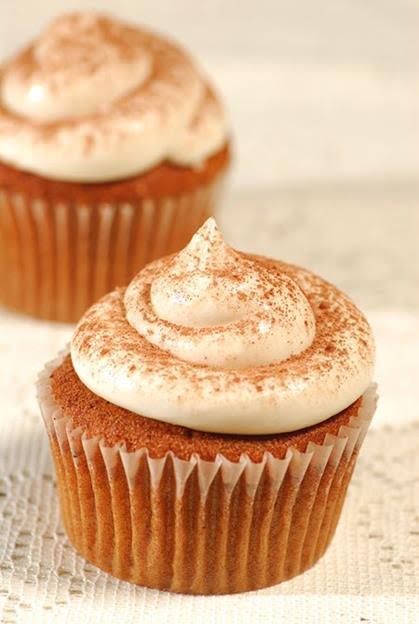 Ingredients
5 Bigelow Constant Comment tea bags steeped in ½ cup boiling water
½ cup butter
1 cup granulated sugar
1 cup brown sugar
4 eggs
1 can (15 ounces) of pumpkin puree
2 cups all-purpose flour
2 teaspoons baking powder
1 teaspoon baking soda
1 teaspoon salt
½ cup vegetable oil
Instructions
Preheat oven to 350 degrees (F). Steep tea and set aside to cool (be sure to squeeze tea bags to get all the liquid). Cream together butter and sugar until light and fluffy. Slowly add eggs, one by one. Once eggs are combined, add the can of pumpkin. In a separate bowl, sift together flour, baking powder, baking soda and salt. To the tea that has been steeped, add enough vegetable oil to reach the ¾ cup mark on measuring cup. Alternate mixing the wets and dries to the pumpkin mix until combined. Scoop mixture into cupcake liners and bake for 20 minutes or until a toothpick is inserted and comes out clean.