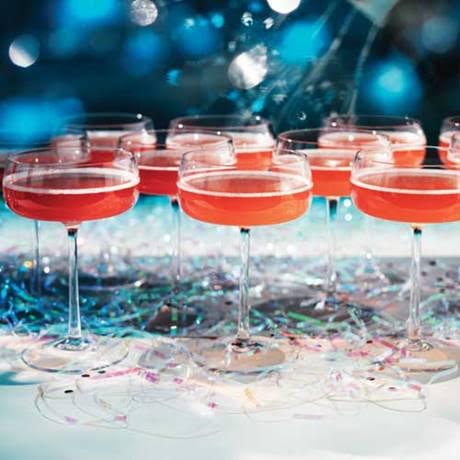 You can't ring in 2017 without a drink in your hand, right?! On a night as special as New Year's Eve, you'll definitely need a fun and festive beverage to match. And if you're hosting guests, you'll absolutely want to dazzle them… Prefer something bubbly? We've got you covered. Going for a cocktail with extra oomph? No problem. Want to keep things family-friendly and nonalcoholic? Easy. Here are six delicious drinks to consider — and, of course, they all share a not-so-secret ingredient: Bigelow Tea!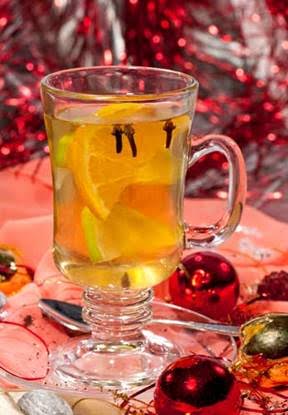 Ingredients
6 tea bags Bigelow Eggnogg'n Tea*
6 cups (48-ounces) hot water
Spiced Butter:
¾ cup light brown sugar
½ cup butter, softened
1 teaspoon pumpkin pie spice
½ teaspoon vanilla extract
⅛ teaspoon salt
8 to 12-ounces (1 to 1 ½ cups) clear rum
Whipped cream, optional
*Variations: Try using Bigelow Apple Cider Herbal Tea or Bigelow Pumpkin Spice Tea
Instructions
In large glass bowl, place tea bags; add hot water. Brew for 4 minutes. Squeeze tea from bags then discard bags. Meanwhile, in small mixer bowl add all Spiced Butter ingredients; beat at medium high speed, scraping bowl occasionally, until light in color (1 minute). In 6 mugs or heat-proof glasses, place 2 tablespoons spiced butter, 2-ounces rum, and 6 ounces hot brewed tea. Mix until Spiced Butter melts. Garnish with whipped cream, if desired.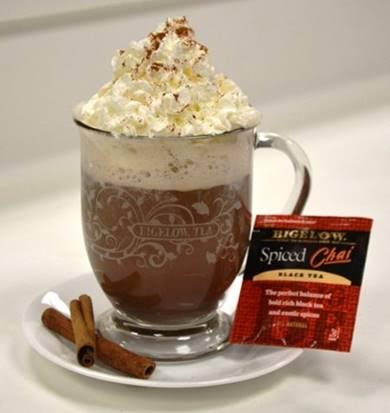 Ingredients
¾ cups (180mL) boiling water
6 Bigelow® Spiced Chai Tea Bags
1½ tablespoons (22.5mL) unsweetened cocoa
2 tablespoons (30mL) sugar
2 cups (500mL) whole milk
3 cinnamon sticks
Whipping cream, optional
Instructions
Pour boiling water over Bigelow® Spiced Chai tea bags and let steep 5 minutes. Remove tea bags, squeeze out excess tea from tea bags. Place tea in saucepan, stir in cocoa, sugar and cook until dissolved or just until mixture comes to a boil. Stir in milk and continue to heat until mixture is thoroughly heated. Pour into cups and garnish with cinnamon sticks and whipping cream, if desired.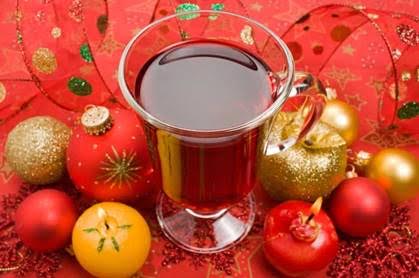 Ingredients
4 cups red table wine
4 Bigelow Orange & Spice® Herbal Tea Bags
½ cup light brown sugar
1 bay leaf
Instructions
Try a Bigelow "Naughteas" Cocktail – a drink made using Bigelow Orange and Spice herbal tea and alcohol. Place red wine in a medium saucepan and heat to simmer. (DO NOT BOIL.) Add tea bags and let sit over low heat for 30 minutes. Squeeze and remove tea bags. Add sugar and bay leaf, stirring until sugar is dissolved. Let wine sit over low heat for another 10 minutes, then remove bay leaf. Reheat and serve as needed.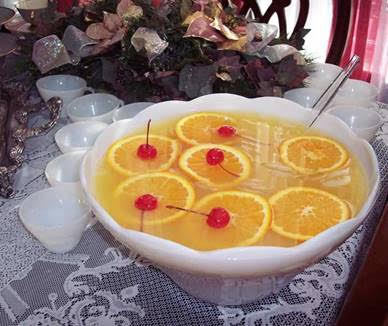 Ingredients
4 cups water
6 Bigelow "Constant Comment"® Tea Bags
2 quarts Sparkling Water**
1 12-oz. can frozen lemonade concentrate
1 12-oz. can frozen orange juice concentrate
1 8-oz. can crushed pineapple with juice
Garnish with Orange Slices
Instructions
In a saucepan, bring water to boil, add tea bags, cover and steep for 5 minutes. Remove tea bags. Allow tea to cool; then chill. Just before serving time, combine tea, sparkling water or Champagne, juice concentrates, and pineapple in a large punch bowl. Garnish with Orange Slices ** Celebrating a special event? Spark it up by substituting 1-½ to 2 bottles of Champagne for the Sparkling Water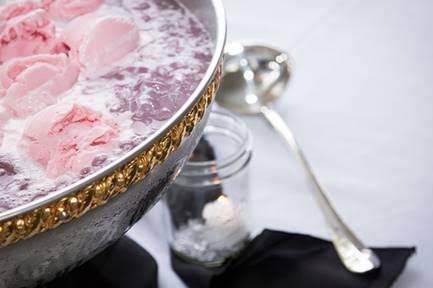 Ingredients
2 cups Cranberry Juice or Cran-Raspberry Juice
Juice of ½ lime
2 cups ginger ale or lemon lime soda
Sherbert (Raspberry or Lime)
1 quart (4 cups)
Bigelow Red Raspberry Herbal Tea chilled
Instructions
Mix together all ingredients (except soda and sherbert) in punch bowl. Just before serving, add soda slowly to punch bowl and stir gently. Add ice and garnish with fresh lime slices and sherbert. **Either Bigelow Red Raspberry Herbal Iced Tea or Bigelow Red Raspberry Herbal hot tea bags can be used in the preparation of this recipe. For iced tea, prepare according to directions on the box. For the hot tea bags prepare according to package directions to make iced tea using 6-8 tea bags per 32 ounces boiling water. Prepare ahead of time and chill. Optional Garnish: Make a frozen decorative ring – You'll need: 1 round fluted pan (bundt, tube pan, gelatin mold) Fresh Fruit Water Fill bottom ⅓ of pan with water and freeze until firm. Add fresh or thawed raspberries around pan, alternating with lime slices*; freeze an additional 15-30 minutes or until semi-firm; add remaining water and freeze until set. To remove ring from container, gently dip in hot water to release edges. Remove and place ring in punch bowl. *Can use orange, lemon or any fruit you want to accentuate.
(Pictured at top)
Ingredients
1 ¼ cups boiling water
6 Bigelow® Pomegranate Pizzazz Herbal Tea Bags*
750-ml bottle champagne or sparkling wine, chilled
2 tablespoons orange juice
¼ cup fresh pomegranate seeds (optional)
*Variation – Red Raspberry Champagne Punch: substitute 6 Bigelow® Red Raspberry Herbal tea bags for the Bigelow Pomegranate Pizzazz and substitute ½ cup fresh raspberries for the pomegranate seeds.
Instructions
The bright red color of this sparkling punch is perfect for the holidays. The addition of fresh pomegranate seeds makes it extra-festive! Combine water and tea bags and allow to steep for 5 minutes. Thoroughly squeeze tea bags and remove. Add orange juice. To chill, place tea concentrate in the freezer for 30-45 minutes. Pour champagne into a large pitcher. Add tea mixture and pomegranate seeds to pitcher and stir. Serve immediately.