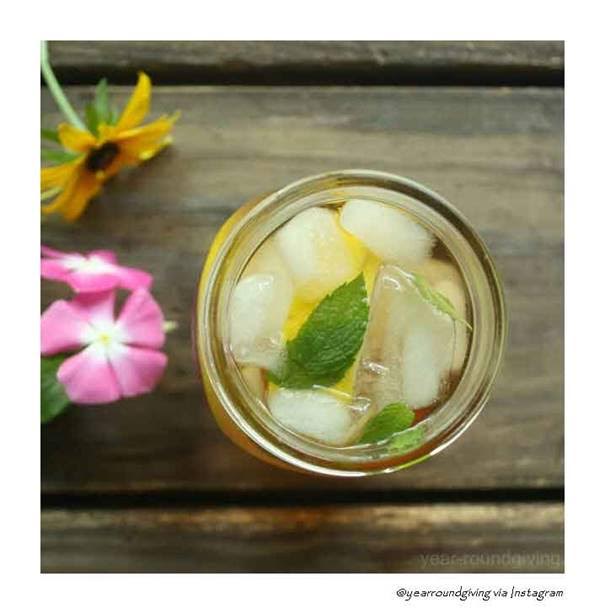 How excited are you that the first day of summer has finally arrived? Hey, even if you still have to go to work and all that, there's something totally cool about June 21st. Everyone knows it's the longest day of the year which gives the #TeaProudly community a totally awesome excuse to celebrate summer fun in ways that you never even imagined…yes Bigelow Tea is part of the scene!
For this year's summer solstice, think out of the (tea!) box and make some really cool recipes that are great for any type of summer picnic or party, or just for chillin out!
For example, these Endless "Pop"sibilities popsicles are totally unique! They are the most amazing treat for getting refreshed and revived on a hot summer day- can't you just see yourself lounging in a hammock in the backyard catching all the drips before they hit your shorts?
Endless "Pop"sibilities (Popsicles)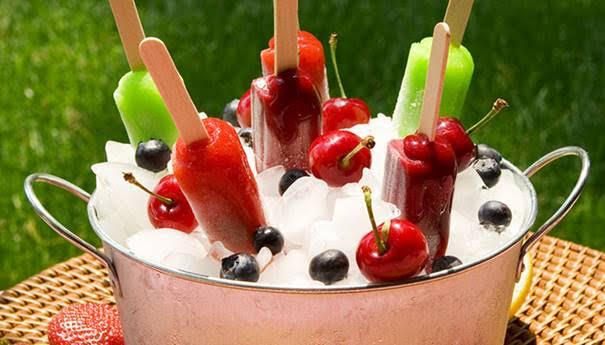 Ingredients
3 Bigelow Pomegranate Pizzazz Herbal Tea Bags
3 Bigelow I Love Lemon Tea Bags
2 cups boiling water
2-3 tablespoons agave nectar
Instructions
Steep all 6 tea bags in water for 3 minutes. Remove bags. Stir in agave nectar syrup; let cool. Pour into 6 molds; freeze 6 hours or overnight. Run molds under hot water for a few seconds to loosen; unmold and enjoy.
Also mega delicious- Green Tea and Coconut Popsicles. So unbelievably simple to make, yet so tasty and such a good way to cool off. (Maybe a fun summer project to do with the kids?)
Green Tea and Coconut Popsicles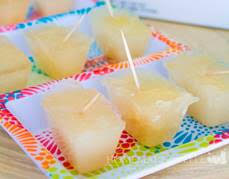 Ingredients
1 cup brewed green tea
1 cup coconut water
1 tbsp honey (raw and local is best)
Instructions
Combine all ingredients in a bowl.  Pour popsicle mix into a clean, empty ice tray.  Place a layer of plastic wrap on top, and pull tight.  Insert a toothpick into the center of each tray, and place in the freezer until frozen solid.
When ready to enjoy, just remove the plastic wrap, and you have 12 individual popsicles!
Finally, this crazy good dessert is basically a great impression in a pan. Make Triple Berry Skillet Tea Cobbler your go-to after dinner treat to bring to barbecues all summer long. It's like eating up the taste of summer in every bite. Are you salivating yet? Yum!!
Triple Berry Skillet Tea Cobbler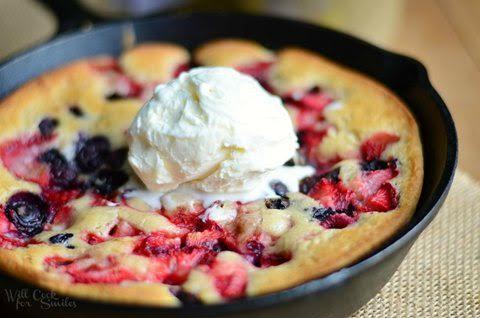 Ingredients
1 cup blueberries
1/2 cup raspberries
1/2 cup chopped strawberries
1 Tbsp sugar
1 tsp lemon juice
Dash of cinnamon
1 cup of flour
2/3 cup sugar
1/4 tsp salt
1 1/2 tsp baking powder
1 egg
1/2 cup Bigelow "I Love Lemon" herbal tea (1/2 cup of boiling water and 1 tea bag)
1/4 cup sour cream
1 tsp vanilla extract
1 Tbsp butter
Instructions
Use a 6 1/2 inch skillet.
Preheat the oven to 350.
Place a tea bag in a cup with 1/2 cup of boiling hot water and steep for 5-6 minutes. Let it cool to room temperature.
In a small bowl, mix berries, sugar, lemon juice and cinnamon.  In a large mixing bowl, whisk together egg and sugar vigorously for about a minute. Whisk in salt, sour cream and vanilla, until all well combined. Whisk in cooled tea.
Whisk in flour until all incorporated. Preheat seasoned skillet over medium heat and melt butter in it. Swish butter all over the skillet. Take off heat. Pour in most of the batter in the skillet and add berries over the top. Drizzle in remaining dough over the top. Place skillet in the oven and bake for 33-37 minutes.
So, which sweet treat are you going to try first this summer? Tell us what's sounding totally delish to you and tag #TeaProudly