Music lover. Podcaster. Co-host. Tea drinker. Ladies and gents, if you don't love her already, you most certainly will after you listen to her show(s)… it's Tanya Rad! She's witty, authentic and one rad lady. And, guess what? She's also a Bigelow Tea drinker – and an awesome partner of ours.
Perhaps you'd recognize her best by her voice. Why? Well, the rad Ms. Rad is all the rage when it comes to the radio (and all things music!). As the co-host on Ryan Seacrest's morning show, "On Air With Ryan" on 102.7 KIIS FM Los Angeles' Hit Music radio station, she's up bright and early (from 5 a.m. – 10 a.m.) to bring the people of Los Angeles and those tuned in worldwide one heck of a good time. And, if you love her there, you'll be thrilled to hear that she hosts an awesome podcast called "Tea Time with Tanya," where she interviews musicians like Astrid S (pictured with Tanya Rad).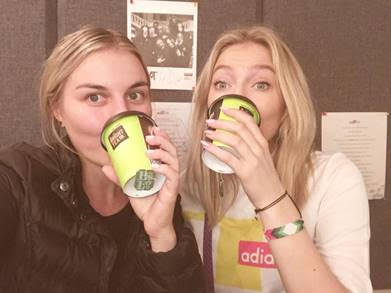 What can you expect to hear over Tanya's teacups? Well, in a lot of ways, the same stuff you'd expect to hear when catching up with a good friend over a cup of Bigelow Tea. She talks about relationships – right and wrong – with Sabrina Carpenter. Tanya and Lauv discuss turning your mess into your message, because who doesn't love a pep talk over tea? And she doles out advice to her younger self with Miley Cyrus. You won't want to miss these episodes – or any others!
Even if it's after 10 a.m. where you are, it's a perfect time to raise a cup to Tanya and her multitasking, music-mastering, celebrity chatting style – and she knows #TeaProudly! Well-worthy of "Constant Comment" (obviously the tea, but also the attention!), this is one DJ you'll want to tune into –chances are, she'll be your cup of tea, too. Enjoy!