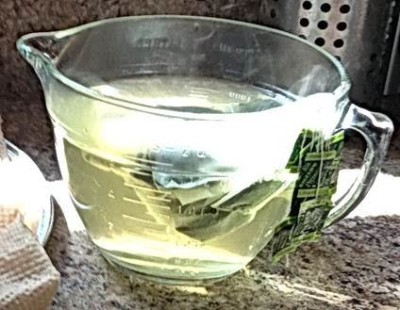 At Bigelow Tea, we are big fans of composting, so we get super excited when a tea fan shares a new composting tip, especially when it involves used Bigelow tea bags.  Meet fan Kristy as she shares her family story, the how-tos and pictures on starting a tea bag garden:
You can start a garden easily and with very little expense using tea bags.  When I was growing up, my family would go to Puerto Rico every year for spring break.  It was there, visiting my grandmother (Abuela), that I first learned about tea bag gardening. 
My grandmother always served tea in the evening and collected our used tea bags in a glass jar.  At the time, being about 6 years old, I thought this was an odd practice, so I asked her why she was saving our old tea bags and she said that she would show me in the morning.  The next morning, my grandmother passed on the steps that I will now share with you. 
How To Start A Tea Bag Garden
You will need:
Disposable serving tray
Seeds of your choice
Used Bigelow tea bags-any flavor –minus the staple
Unbleached paper towels
Watering pitcher
Small blade/knife (optional)
Step by step instructions:
Begin with a plate, platter or disposable serving tray (found at any Dollar Store).
Line your tray with unbleached paper towels.  Use unbleached paper towels to avoid chemical leaching.
Prepare your fresh tea bags (prepare normally using boiling water from your kettle) or take your collection of used tea bags and moisten them in water.
Place your moistened tea bags on your tray.  Be sure to allow space between the bags.
Next, using a small blade/knife or your fingers, make a small slit in the tea bags (large enough to plant your seeds).
Now, take 2-3 seeds and push them into the slit that you made in the tea bag so that the seeds are slightly covered by the tea leaves.  Note that because the tea leaves are moist, some of the contents of the tea bag will get on your fingers but be patient and continue to make sure that the seed is indeed in place.
Take your watering pitcher and pour water onto the paper towels-NOT directly onto the teabags.
Now place your tea bag garden in a sunny area and wait for your seeds to sprout.  Be sure to keep the paper towels moistened and depending on sun exposure, temperature and watering, seeds should begin to sprout in 10-15 days.  Note that some seeds do take longer to germinate so don't give up!
Once you have a small sprout, take the ENTIRE tea bag and plant it in your garden which can be a raised bed or container.   And no worries about doing this because the tea bag that you used as a planter/seed starter is great compost for your garden.
As an adult and an avid gardener, I now know that this is a great way to begin your garden as there is less shock to your seedling because you don't have to remove it from the tea bag. 
I am so happy to pass along my grandmother's garden/tea tip.  Happy tea drinking and good luck with this season's garden!
Kristy from Shelton, CT
Bigelow Tea Fan