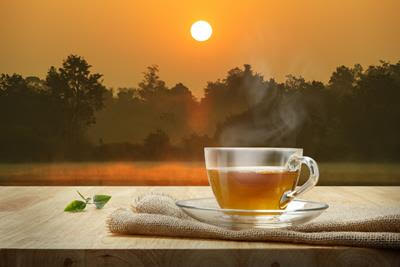 It turns out that "one of the world's oldest beverages" is even older than previously thought. New analysis of plant remains found in ancient tombs confirms that they are, in fact, from tea plants. Bigelow Tea loves a good mystery and learning that the key to solving this one was the presence of theanine, an amino acid found only in tea and responsible for its relaxing properties.
According to an NPR report, the oldest known reference to tea was in a document from 59 B.C., though scholars were unsure of its accuracy. Experts now have what they believe is physical evidence of tea's existence in two tombs that are 2,100 years old, about 100 years before the document in question. Leaf buds found in these tombs resemble the finest tea. To prove their hunch, researchers compared the chemistry of the buds to modern tea samples. The presence of caffeine was helpful, but not conclusive, evidence. A few other plants also contain caffeine. Finding theanine was "the clincher."
The investigation also supported the belief that tea has long been highly prized and sought after, as one of the tombs –in western China – belonged to an emperor! What remains unclear is exactly how this ancient tea was enjoyed. Other evidence suggests that before modern brewing techniques, cultural practices involved mixing barley and other plants with tea for medicinal purposes.
However it was used, tea clearly has a long and distinguished history that tea lovers all over the world can appreciate. As a third-generation family-owned tea company founded 70 years ago, Bigelow Tea is proud to be a part of this tradition!