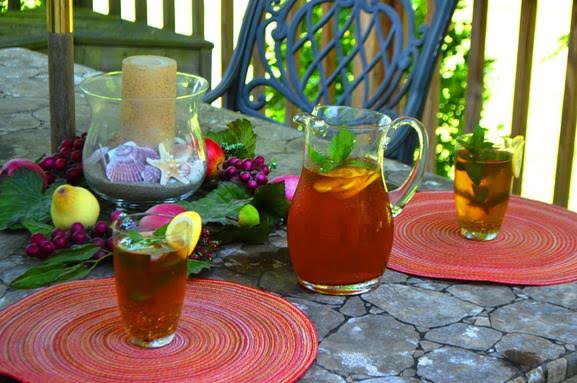 During the summer months, drinks get cooler and the days get longer and now that we are in June, that means one thing—it's time for iced tea! Easily made and enjoyed by the pitcher or by the glass, iced tea is a low-calorie way to stay hydrated. And this June, what better way to celebrate National Iced Tea Month than with a glass of Bigelow Tea over ice? To help you decide on which flavor to savor, we've collected a few of our favorite reviews and comments from fans like you. Check them out:
"You know when people say, 'This is the best such-and-such I've ever tasted.'? Usually an exaggeration. I'm saying it; and I really mean it. I adore this stuff. I tried one pack of it on a whim. It. was. amazing. The next time I went back to the store, I purchased 7 more boxes. That's 42 quarts of tea, folks. We burn through it so fast." – Heather from Bellevue, who is a fan of Bigelow Half Tea & Half Lemonade with Pomegranate.
"Deliciously awesome!" – John from Whitestone, who loves the Iced Tea and Lemonade flavor.
"This is my most favorite tea! The aroma is absolutely amazing and it actually does taste like a peach pie in a cup! Great way to help unwind! :)" – Emily from Emporia, referring to Bigelow Perfect Peach® Herbal Iced Tea.
"Other than coffee and water, Bigelow Red Raspberry Iced Tea is the only liquid I consume on a daily basis. I don't like any other tea nearly as much. It is so good it doesn't even need sweetener of any kind!" – Carol, Pilot
"I have been buying Red Raspberry Herbal Iced Tea by the case several times throughout the summer for close to ten years now. I love it with three or four lemon slices and sweetener. Tastes like raspberry lemonade to me, soooooo refreshing on a hot summer day." – Lee, Salt Lake City
"One of the best teas I have ever had." – Charles from Fremont, who enjoys Green Tea with Pomegranate Iced Tea.
In the event your favorite flavor is not one in the Bigelow Iced Tea line, you can always add ice to your go-to brew!
"We are huge fans of I Love Lemon. It is the perfect balance of lemon, lemongrass and rosehips and is never too tart. The hint of peppermint is a welcome bonus too. We enjoy it year round, hot or iced… Thank you Bigelow for making such a great tea blend and hope you'll always keep it in your lineup!" – Terry, Charlotte
Catherine J. Curtis suggests a glass of "Chai with some vanilla soy milk, sugar and ice!"
Sandy from White Springs likes to make a gallon of iced tea by combining two bags of Orange and Spice Herbal Tea with two bags of Lemon Ginger Herbal Tea + Probiotics. "I love its blend of spices!"
We also love to see the feedback on our social media channels. Linda Cunningham shared the tip of combining Bigelow Green and Black tea over ice on our Facebook page, and Cecil Young, Jr. commented that his favorite Bigelow teas to enjoy iced are Green Tea with Lemon or Earl Grey. @LukeIsASequin tweeted that his favorite flavor over ice is Constant Comment and @LeahTweetr is a fan of Mint Medley.
Of course, you could always follow B from Newtown's lead: "During family meals we only serve water, seltzer, milk, orange juice, and Bigelow iced tea!!!" Now that's a tradition worth getting behind with your family or friends this summer. Ahhh… we can already hear the ice clinking. Enjoy!