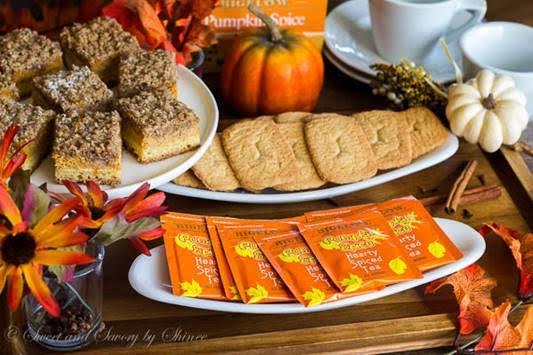 Are you looking for the perfect excuse to host a gathering? Just grab your favorite Bigelow Tea seasonal flavors and let's get to the party planning! After all, with the air getting cooler and the days getting shorter—now's the perfect time to host a fall-themed tea party!
Select the date, the time, the location and the details
Figure out the who, where, what and when. Begin a guest list and decide if you want to go formal or casual—your invitations will need to reflect whichever approach you choose. To us, anytime is a good time for a tea party, but keep in mind that you'll need to plan things around the time you select.
Invite your guests
Once you finalize your guest list, send out your invitations. Are you keeping it cozy with a small number or guests? Or do you want to fill the room? You'll want to make sure you have plenty of food and tea for everyone—favorite flavors go fast—and try to get invitations out at least two weeks in advance.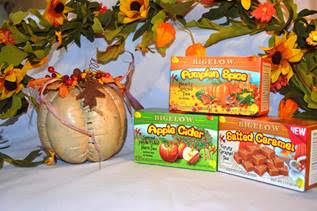 Decide on your menu
Select the teas you want to serve and make a list of the different baked goods, appetizers and finger sandwiches to make. In keeping with the autumn theme, our go-to flavors are Pumpkin Spice, Salted Caramel and Spiced Apple Cider Herbal Tea. It's ideal to have a variety, so plan to include a few classics, too, like "Constant Comment®" and Earl Grey, or a robust Darjeeling.
Make sure you have everything you'll need
Here's the Bigelow Tea party checklist. Feel free to adapt it to your needs and to your special gathering.
Mugs or teacups and saucers
Milk (not cream), lemon slices, honey, sugar and a small dish for placing used tea bags. Some people prefer artificial sweeteners, so it doesn't hurt to have some on the table or waiting in the wings.
A pretty tablecloth and napkins
Small plates, cake forks and teaspoons
Serving pieces and utensils
We'd also recommend a fall-themed centerpiece—simple is better. Need some ideas? Group pillar candles in different heights and widths on a tray, and add several fallen leaves or pinecones at the base of the candles. Pile a pedestal bowl high with mini pumpkins, cranberries or other fall fruits. Float single grocery store flowers in glass votive candleholders, or purchase a bouquet of burnt orange, golden yellow and deep red flowers.
And with that, you have all the essentials and accessories you need to host a tea party worthy of the awesomeness of autumn. Soak in the crisp air, revel in the changing leaves (if you have some nearby!), enjoy a shared pot (or two) of tea, and celebrate the season with your favorite people.