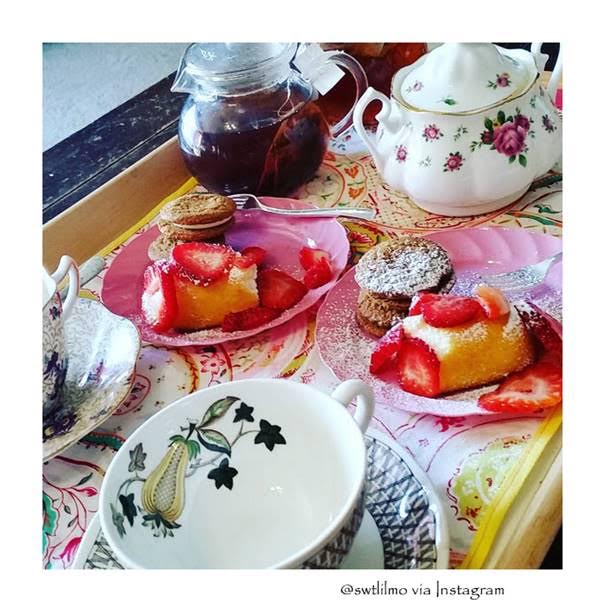 Why not throw a tea party for your next event planning adventure…think about a baby or bridal shower, birthdays, a girls' get together or a unique graduation party (tis the season after all)!  Of course, you really need no excuse for drinking Bigelow Tea with friends and family, but hey, if you're thinking of planning the tea party of the century, these tips will help you make the day totally rock, whether you're new to the tea party scene or you have done this a million times (and if you have please do share tips with all of us!).  Check out these tea party tips for the #TeaProudly crowd:
Will the tea party be hoity-toity or totally chill?
First things first; decide what kind of party you want to have. Is the event going to be a fancy Brit-like high tea? Or are you thinking something more casual like a brunch or snack-filled afternoon tea? You can even have a glamorous tea party like a celebrity would!
Make a list of party essentials, and check it twice.
Once you've decided on the type of event you're having, you'll need tea (we'll get to that!)  of course, but this checklist should cover all the other must-haves that you don't want to forget:
Teapots for each type of tea you serve
Plenty of cups and saucers
All the tea accouterments like milk, lemon slices, honey, and sugar
Decorative plates, forks and teaspoons
Table décor, including a cool centerpiece and cool tablecloths! There are endless centerpiece ideas, as well as tea party ideas, on Pinterest.
Cook up some recipes that feature tea!
A casual tea party calls for tasty and easy eats, such as big helpings of Fabulous Melon and Blueberry Fruit Salad, which features Bigelow Wild Blueberry With Acai herbal tea for a fruity twist!  And guests will go nuts for I Love Lemon® Quick Bread, it's so simple yet so good!  If you're thinking of doing something a bit more formal menu wise, hors d'oeuvres are a must. I Love Lemon® Asparagus Wrapped in Smoked Salmon is a classy choice, as are Miniature Vegetable Quiches that feature Bigelow Green Tea in them- yummy!
Offer up teas for every taste!
Last but certainly not least, you'll need the right teas for the party! Think about offering a wide range of flavors, from light and fruity to bold and spicy, to keep guests going back for more! These crowd-pleasing varieties are must-haves: English Teatime, Lemon Lift, Green Tea, Plantation Mint, and the one and only Constant Comment®.
Now you're ready to party! Go forth and #TeaProudly!