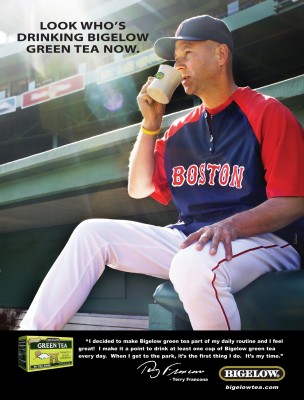 Had somewhat of a surprise visit yesterday from Terry Francona, the manager of the Red Sox. We have been working with Terry for the last several years and I have been blessed to be with him a few times. This time I was able to spend a couple hours with him at our company. He got the full tour of our plant, met all our employees, saw our manufacturing process and our blending process…he was so excited to learn how to make a teabag! He actually is a little bit of an "operations geek." He watches programs on manufacturing and finds it fascinating (who knew!).
But besides seeing how we operate, he was so gracious and generous with his time in chatting with our employees. Our employees were smiling from ear to ear as he signed photos, notes, whatever as well as stood for pictures with anyone that wanted one (which was just about everyone!). He never gave me the feeling "he had to go" even though he was driving down to Spring Training when he left our company. He is a class act in every sense.
Yes, the Bigelow family is very fortunate in our partnerships. We could have not have found a better spokesman for our company, not only does he love our green tea but as everyone knows he is a true gentleman. A professional, a gentleman, a huge heart and a fantastic manager….we are blessed to call him part of our family!
Cindi Bigelow