Michael Kreamer, Cindi Bigelow and Cindi's son David
I had such a great experience yesterday. Bigelow Tea helped support an event on the University of Virginia campus called Pancakes for Parkinson's. A young man named Michael Kreamer contacted us to inquire if we would like to participate. We were delighted to help out.
So we sent him Bigelow Tea and of course some fun "swag" (Bigelow Tea shirts and hats). When I arrived at the event I had no idea what to expect. Well, to my delight, Bigelow Tea was a huge hit!!!  Michael stated he had run out of water (5 gallons!) almost immediately. He had to replace the water 5 times and eventually just could not keep running out to the local downtown to refill. The young students were lined up—a longer line than for the coffee!—and the biggest hit was the Vanilla Chai. These young people were major tea fans (thank the heavens).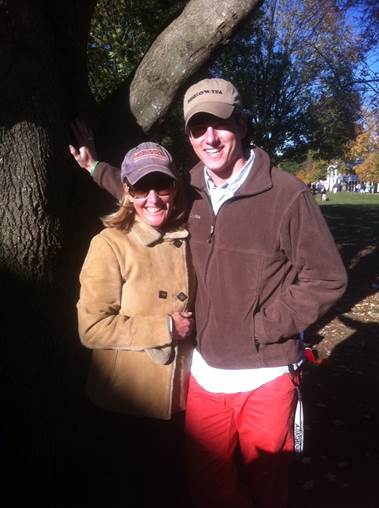 Cindi Bigelow with Chris Hudson
 I just stood there trying to take it all in, observing which teas they gravitated toward (all four we supplied them with seemed like home runs: Vanilla Chai, Green Tea with Pomegranate, Lemon Ginger and English Teatime), restocking cups, restocking tea and just being in awe of the entire experience.
I have to say the newly designed foils looked truly outstanding in the basket that Michael displayed the teas in. A huge "thank you" to this young, entrepreneurial student for allowing us to be a part of this fantastic event for an outstanding cause on the UVA campus!
What a great day!
Cindi Bigelow