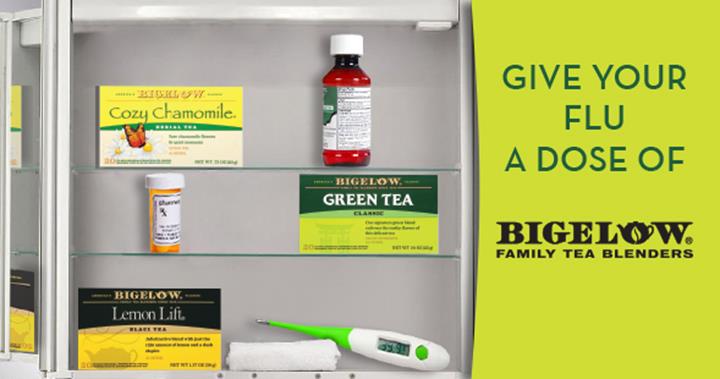 Like chicken noodle soup, a hot mug of Bigelow Tea just makes you feel better when you're suffering from a cold or the flu. The warmth, the aroma and the enticing flavor of tea can really soothe you from the inside out! So, as cold & flu season approaches, share your favorite "sick day" Bigelow Tea option!
Do you prefer a nice, low-key herbal blend like fragrant Peppermint Or perhaps your choice is a green tea such as the invigorating "Constant Comment"® Green. Alternatively, do you want that traditional black tea boost from a cup of Earl Grey? And zesty Lemon Ginger Herbal Plus Probiotics is delicious and good for your digestion. Really, you can't go wrong with whatever variety you choose!
Of course, the CDC recommends an annual flu vaccine as the best way to reduce the chances of getting the flu. But Joe Simrany, president of the Tea Council of the USA, recommends consuming plenty of fluids especially hot tea. "Hot tea soothes the throat and warms the body on chilly winter days, and it can promote relaxation." And some research findings report that drinking black tea might improve the body's defenses and quicken the response to bacteria and viruses. One study indicated that drinking tea activated immune cells and boosted the immune system!
So, drink up! Here's to a healthy cold & flu season!
The preceding materials related to health information are provided for educational purposes only.
Tea and tea containing products are not intended to treat, cure or prevent any disease or illness. You should always consult a physician regarding the applicability of any information or recommendations with respect to any symptoms or medical condition.
Bigelow is not responsible for the content contained in third-party studies. Bigelow provides these studies for reference, and this does not represent an endorsement or responsibility for the content of such third-party studies.