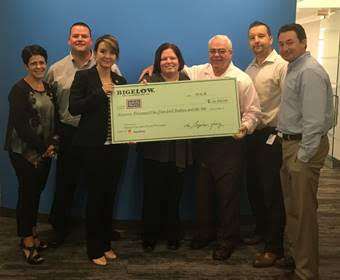 Bigelow Tea keeps those who have served our country close to our hearts every day including this Veteran's Day. Recently Bigelow Tea worked closely with the USO and Stop & Shop in Quincy, Massachusetts on a specially developed Support our Local Troops Program that represented 3% of all Bigelow Tea sold at Stop & Shop stores between June 3 and July 7, 2016 and resulted in a final contribution of  $14,100. The contribution will provide support to the USO and the crucial services it provides to forward-deployed service members, military families, wounded warriors, troops in transition and families of the fallen.
"The USO and their mission, which recognizes the huge sacrifices men and women of our military have made and continue to make, is near and dear to the hearts of everyone at Bigelow Tea. Filled with pride and gratitude for all they do, we love doing all we can, whenever we can, to support them," says Cindi Bigelow, President & CEO of Bigelow Tea. "We appreciate the opportunity to partner with Stop & Shop on this program and to all the Stop & Shop consumers for their whole-hearted support. Together we accomplish great things."
Bigelow Tea's commitment to U.S. military communities continues to grow since it launched its Tea for the Troops Program in 2009 donating 5 million tea bags to date in support of the USO's ongoing mission to strengthen America's military by keeping them connected to family, home and country. The "Tea for the Troops" program sends specially designed boxes of the company's 100% American-grown tea, from the company's Charleston Tea Plantation, to U.S. military personnel overseas and in the States. The package was created exclusively for service men and women to thank them for their service.
Additionally, Bigelow Tea became an official sponsor of the USO in 2015 and an enthusiastic participant in USO events such as the organization's 2015 and 2016 Warrior Weeks that took place in Virginia Beach, Virginia in association with USO of Hampton Roads and Central Virginia Inc. Their invaluable programs bring together physical, therapeutic and recreational organizations that empower wounded, ill and injured troops with a renewed sense of adventure by providing opportunities to participate in activities from adaptive water skiing and kayaking, to deep sea fishing, horseback riding, surfing, racquetball and tennis.
We encourage you to take a moment this Veteran's Day to find your own way to honor and support all the men, women, and families who have given so much to our country.