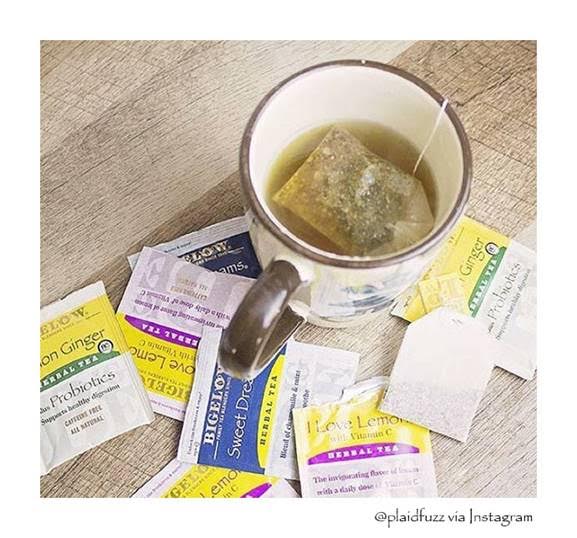 Okay. Let's talk about soda. Yeah, yeah, you may know it's not good for you—but at the same time, it can be totally tough to resist. Come on, who doesn't remember guzzling it down at the movies (those sugary-sweet chick flicks, though…) and the fizz! Ahh… there's nothing quite like soda bubbles on a hot day, right?! But, listen, a single can often contains 10 teaspoons of sugar. Imagine digging into a sugar bowl a few times and it's basically the same thing. For the sake of your teeth, your body and your brain, it's time to kick the sugary habit to the curb. And what better way to escape the soda cycle so than by changing out that 20-ounce bottle for a cup of Bigelow Tea? Here's why you should be drinking less soda, plus some tips on how to make the transition a little bit easier…
Are you so into soda? The more you drink (and that's regular soda or diet), the worse it may be for your health. In fact, some research suggests that drinking sugary soda – and artificial sweeteners and additives – is strongly linked to weight gain, may cause insulin resistance, and may contribute to cardiovascular diseases and diabetes. In the words of celebrity no-nonsense fitness trainer and all-around rockstar Jillian Michaels, "Drinking soda is worse than smoking cigarettes." Yikes!
But you still need to stay hydrated! This is soooo important. Let's say you kick the soda habit. You still need to drink something! According to the American Heart Association, keeping the body hydrated helps the heart more easily pump blood through the blood vessels to the muscles. And, it helps the muscles work efficiently. Plus, sugary sodas tend to dehydrate you or send you into a sugar crash, so it's best to make a change. In addition to lots of water, keep hydrated by adding tea to your daily routine. And, green teas are highest in polyphenols known as EGCG, which is why so many in the #TeaProudly community and beyond make it part of their healthy lifestyle—why not include a few cups to your day?
Chances are pretty good you can make the switch. In 2012, a Gallup poll found that 48% of Americans drink at least one glass of soda a day. That means there's a 50-50 chance you're a frequent soda drinker. No judgment! Check your watch. Is it soda o'clock? Not so fast. Try to exchange the go-to soft drink for a cup of tea or jazz up some water by adding fresh fruit. Love the bubbles? Switch to seltzer. Go ahead, you can do it!
Bottom line. Whether you're avoiding a short-term crash or looking out for your long-term health, your body will thank you once you eliminate this common beverage habit. The good news is about 63% of people are now trying to avoid soda, according to a recent poll – just make sure you're still hydrating!
Have you switched out soda for tea recently? Tag #TeaProudly and tell us how it's going!